The Hancock-Henderson Quill, Inc.
---
Helping The Community
A warm hat and a scarf or a cozy blanket to wrap up in are welcome items as winter's cold temperatures hover around the 20 degrees mark.
The Media-Stronghurst Presbyterian Ladies saw a need and have been busy all year long with the help of homebound members-sewing quilts and knitting and crocheting hats and scarves.
All of these were shared with local organizations: the Henderson County WIC program, FOCC, Lomax Food Pantry and Jamieson Center.
This year the group made 131 crib-size quilts, 67 woven-edge throws and 35 fleece blankets (large enough for a twin bed). Individuals knitted or crocheted 32 scarves, 30 small hats and 105 larger hats. Eight pairs of gloves and 12 hats were purchased to add to the distribution.
These ladies believe in helping the community by offering their talents in this way and have already started on next year's project.
Sewing Day is on the last Wednesday of the month at 9 a.m. at the Stronghurst Church; come sew or knit with this busy group; everyone is welcome.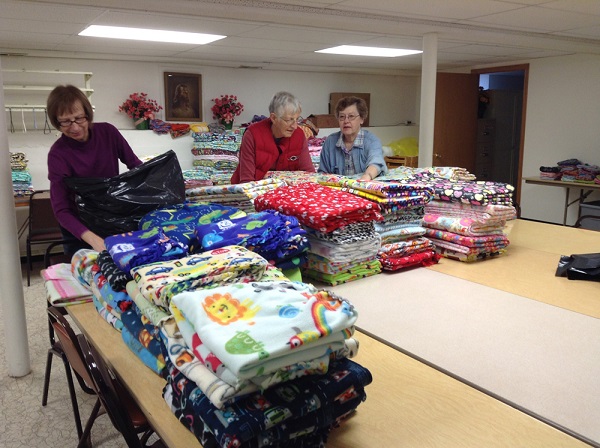 Julie Love, Virginia Ross and Carolyn Fry sort blankets and hats for distribution.
---