The Hancock-Henderson Quill, Inc.
---
An Old Fashioned Christmas Enjoyed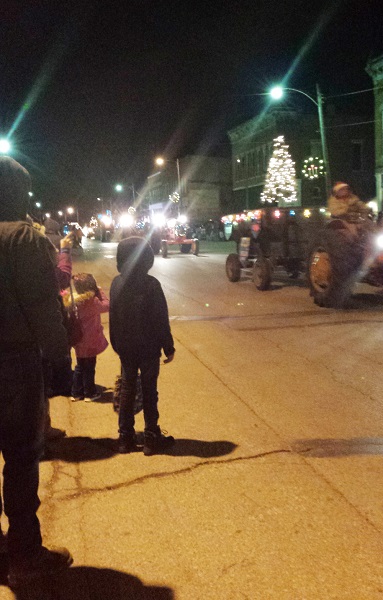 -by Deb Olson, The Quill
With businesses providing refreshments and door prizes all along Main Street, hundreds in La Harpe spent December 6th from 5 to 9 p.m. in a lighted winter wonderland.
Attendees began visiting the various Customer Appreciation Open Houses located all around town and were given a variety of sweets and savories as well as hot apple cider and hot chocolate to warm them.
At the La Harpe Community Clubhouse on West Main, visitors could shop the wares of 20 vendors who were featured at the Holiday Craft Show and Vendor Blender. The location was changed due to closure of Center St, but a brisk business was conducted despite the move.
La Harpe Park District, the Golden Rule Club and Love La Harpe groups worked together to help organize events and sponsor the turkey give away.
The Methodist Church Festival of Tree and Sweet Shoppe provided beautifully decorated trees and delicious refreshments. At the church the meal was served by the La Harpe 4-H Clovers 4-H Club,
At "The Quill," visitors sampled hot cider, cookies, candies and savories. Quill subscription winners were Byron Brown, Kathy Harkey, and Sheila Link.
Open House winners at Hometown Insurance Center were Joyce Horn who won the Red Bison Tumbler, Judy Burt who won the Pink Bison Tumbler and Cassie Bundy winner of the Blue Bison Tumbler
Open House winners at RB's Pitstop were Bryan Brown $25, Shane Lewis $15, Ryan Walker $10, Dana Butler-$5
Winners at the La Harpe Library drawing were Donna Wood-Dollar General Gift Card, Brenda Sparrow-Dollar General Gift Card, and Amanda Brown-Popcorn Tin. The M&M's guessing game was won by Shelly Fye with a guess of 450, the total was 441. Crayola Blocks winner was Graydon Shoemaker.
Winners at the La Harpe Historical and Genealogical Society were Chloe Johnson in the under 18 category, Rebecca Humphrey won a membership and Christine Geisler won a La Harpe History DVD.Santa's house was open ...have you been naughty or nice?
The lighted parade at 7 p.m. with flashing lights, music, candy thrown to eager children capped off the festivities, leaving all those in attendance saying "Merry Christmas to all and to all a good night!" Are you ready for Christmas?
---