The Hancock-Henderson Quill, Inc.
---
Meet Your Neighbor
by Deb Olson, The Quill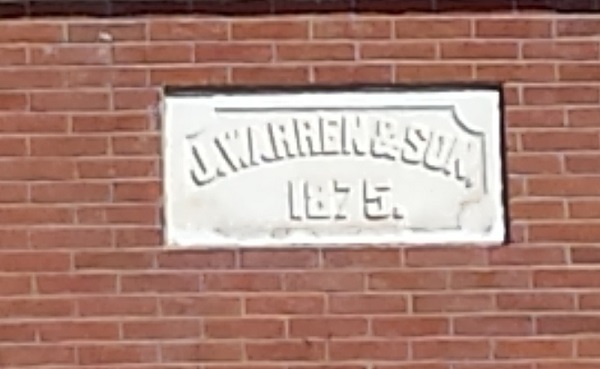 Meet your neighbor John Warren, who was born in Shapleigh, Maine on January 6, 1815 and who came to La Harpe in 1838.
John's parents were Luther Warren, a farmer in Maine and his wife, Charlotte Roberts Warren. The Warrens came to La Harpe in 1866, and remained here until their deaths in 1871 and 1879, respectively.
John's paternal grandfather was Benjamin Warren, who came to America from England shortly after the American Revolution, settling in Waterborough, York County, Maine. He is credited with founding this branch of the Warren family in America.
Upon his arrival in La Harpe John Warren taught school for several years. His obituary in the Quill in 1900 notes that he "taught in winter and engaged in brickmaking during the summer". He is believed to have been "the first to engage in either occupation in La Harpe."
In 1844 John Warren began a career as a merchant. Around 1850, he and his brother Benjamin Warren founded the firm of J. and B. Warren. The brothers were prominent and successful businessmen here. They are credited with encouraging the construction of the Toledo, Peoria and Western Railroad.
In December, 1845, John Warren married Polly Ricker of La Harpe. A daughter, Charlotte was born to them in April of 1847. Sadly the mother died 8 days after the child's birth. The child died in July of 1847.
John Warren was remarried to Sophronia B. Leavitt Ricker on July 9, 1848 in Hancock County. They became the parents of 11 children: Charlotte (1889 - 1850), Ella Lee (1852 - 1870), Edgar L, (1855 - 1883), Arlene M. (1857 - 1935), Mabel R. (1857 - 1941), Leonora (1861 - 1932), Mary A. (1863 - 1939), Rafia A. (1867 - 1869), John O. (1869 - 1870), Ruth C, (1872 - 1943) and Eva (1874 - 1900). Six of these children preceded their father in death, several as infants, two as young adults.
John Warren was a charter member of the La Harpe Christian Church. At the time of his death, he was the oldest member of the Masonic Lodge.
Sophronia Warren died in 1892. John survived his wife by 8 years. Death found him at the home of his daughter Mrs. H. F. (Mabel) Jolly on August 28, 1900 in Denver, Colorado. His body was returned to La Harpe for burial. He now rests in La Harpe City Cemetery with his parents, his first wife Polly, second wife Sophronia, and several of his children.
The Warren home was located along Main Street, and was later occupied by Dr. Smith, before its demolition. It once stood on the current site occupied by the grounds of La Harpe Davier Health Care Center.
The Warren building, built in 1875, still stands on the north side of 100 block of East Main.
The Warren family is long gone from La Harpe and Hancock County but their name lives on in the medallion near the top of the old Warren Building now owned by First State Bank of Illinois, and featured in the Quill's Architectural Detail Series.
The Warrens exemplify the sturdy, devout, hardworking pioneer spirit that built La Harpe.
---