The Hancock-Henderson Quill, Inc.
---
Fire Destroys Home in Olena
by Dessa Rodeffer, Quill Publisher-Owner
Dr. Jon and Lori Schar of Olena lost their home late Friday night to a house fire that seems to have started in the garage. Lori was home but Jon and their two teenagers were shopping in the Quad Cities when his wife called at 11:05 p.m.
Lori had gone to bed and was watching the Olympics on TV when she heard gun shots and thought someone was breaking into the back of the house. She called her husband and he said to call 9-1-1 but she replied, there wasn't time. I'm getting the gun and I'm going to shoot them. She saw their foundered old donkey Josie running across the yard, and knew she was frightened too, and then she spotted the garage in flames. "Our garage is in flames", she said, and Jon told her to Get Out of the House!"
She did and called the fire department, who had already been called by neighbors. By the time the Stronghurst fire department arrived, the house was half engulfed in flames said MST Fire Chief Scott Ford. The fire department along with the help of Biggsville, Gladstone and Oquawka departments and an ambulance on standby, they were able to keep the fire from destroying the bedroom and bath where Lori had not that long ago been almost drifting to sleep. Two house cats were rescued from the fire, one found under the covers of her bed, and the other in a basket in the closet. Country Companies Insurance agent had been called, according to Lori on Saturday afternoon but they still hadn't heard from either them or the Fire Marshal. Monday, the Fire Marshal did arrive but there was still no determination on how the fire had started. Completely destroyed was the connected garage, the sunroom full of silver, crystal, and antiques of Lori's and her mother's and grandmothers. And the kitchen remodeled 10 years ago and bathrooms recently remodeled were destroyed.
Dr. Schar's Veterinary truck was parked away from the house and was not damaged and the nearby Vet Clinic of Schars was watered down by firemen and undamaged.
There was ammunition in the garage Lori said that was the reason she heard gun shots, but Schar's guns were one of the few things that were in the bedroom and saved. The home is no longer liveable, but Emma, an 8th grader and Spencer, a Sophomore at Notre Dame in Burlington, IA , and mom and dad are safe. Lori said they are appreciative of neighbors who have offered a helping hand at this difficult time.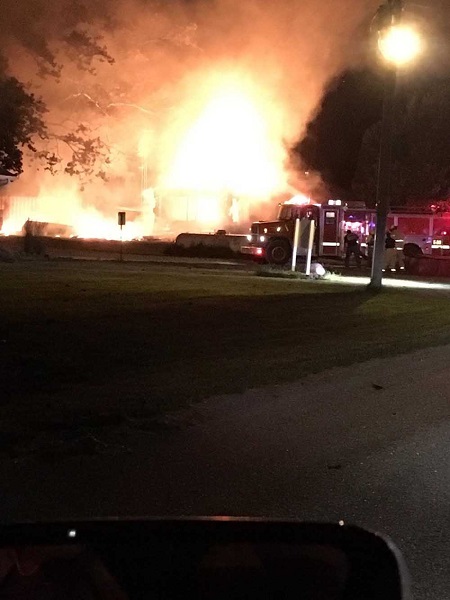 Fire demolishes Dr. Jon and Lori Schar's home late Friday night located in Olena, north of his Veterinary Clinic. No one was injured. Cause is undertermined.
---