The Hancock-Henderson Quill, Inc.
---
The Burg Automobile
by Deb Olson, The Quill
When visiting this weekend's LaHarpe Classic Car Show consider the history of the Burg automobile which was manufactured in Dallas City in the early 1900s.
Made by the same Burg family that had grown wealthy in the mid to late 1800s manufacturing wagons and carriages, the cars were only produced from 1910 through 1913.
Lewis Burg came to the United States in the spring of 1853 from Bavaria.
He settled first in Burlington, IA, where his brother John owned a wagon works.
Then in 1865 he moved to Farmington, Iowa and for many years manufactured wagons and carriages at his building on 2nd Street there.
In 1892 he moved to Dallas City where in 1910 his company began the manufacture of automobiles.
Like many of the early automobiles, the Burg was an assembled car as described by John Daly in an 2008 article posted on the website of the Southeast Iowa Antique Car Club at http://siacc.info/auto_bios/bio.
He states that the mechanical parts of the vehicle were put together from parts obtained from outside sources .
This was common practice in the earliest cars.
In addition, these early cars, like the Burg, were only made for a short period of time and only a limited number of vehicles were produced.
The 1910 Burg was a 4 cylinder, 5 passenger, touring car with a 114 wheel base. Its list price was $1750.
The 1911 and 1912 models had 6 cylinder, 50 horsepower engines, with a 112 wheelbase. The cost of these models was $2480. These cars were available in 4 different body colors, red, dark blue, purple, and black. The buyer had the choice of leather, broadcloth, or plush upholstery.
Approximately 40 workers were employed at the Dallas City plant.
They made the body of the cars, assembled them from mechanical parts bought from outside sources, added the upholstery, painted the cars and added the tops.
Due to heavy competition and loss of considerable working capital, manufacture of these cars was discontinued in 1913.
Approximately 50 Burg automobiles had been produced during this time.
The company continued for another 6 years making buggies but the growing demand for automobiles eventually caused the closure of the Burg factory.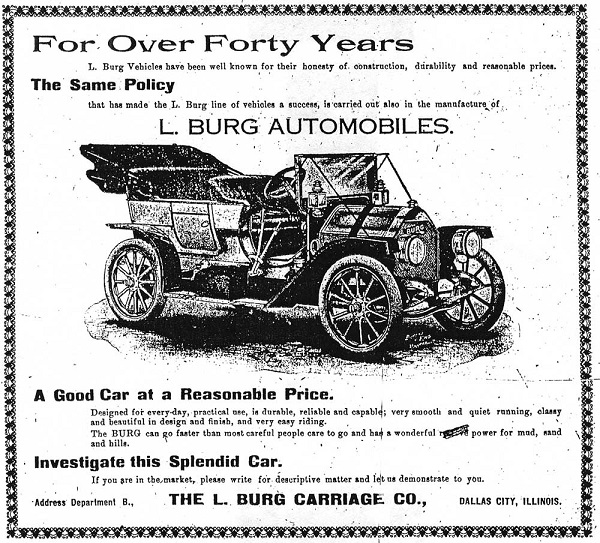 The above advertisement is from the April 12, 1910 Dallas City Review as reproduced in the La Harpe Historical and Genealogical Society's newsletter.
---