The Hancock-Henderson Quill, Inc.
---
No Lack of Public Comment at La Harpe Council Meeting
by Dessa Rodeffer, Quill Publisher/Owner
La Harpe- The story continues of last week's partial account of the March 28th La Harpe City Council meeting with tense relationships between the citizens of La Harpe and Mayor Ryan Kienast, water committee member Marcia Stiller, City Attorney Kurt Dittmer, and Council members.
The meeting included many public comments, a closed session, an unanimous vote to re-hire long-time Water Supervisor Tim Graves.
The restless crowd of about 150 gathered early to attend the 3rd meeting in March, which included a Special Meeting that was held to address the prior Monday's actions of Mayor Kienast informing Graves that the La Harpe City Council's March 14th vote to reject his resignation and keep him on, was null and void due to technicalities, and he really didn't have his job back.
There was public protest, news coverage which also included the fact that the Mayor had hired his own attorney who sent a letter to all La Harpe City Council members urging them to address the "inconsistent billing practices in a timely manner" or "Kienast has an excellent basis for filing a lawsuit in Federal court!"
The council was told to"remedy the situation within the next billing cycle."
The letter was written to all La Harpe City Council members dated March 15th by Emily Sutton of Lucie, Scalf & Bougher of Macomb on behalf of their client Ryan Kienast as a property owner and private resident, it said.
"The purpose of the Fourteenth Amendment is to secure every person within the State's jurisdiction against intentional and arbitrary discrimination, whether express terms of a statute or by its improper execution through duly constituted agents."
The attorney's letter went on: "There does not have to be improper motivation for the difference in treatment; it is enough that water and sewer bills are calculated inconsistently."
Monday night's crowd of around 150 citizens was angry when the meeting opened up at 7:00 p.m..
Answering roll call were: Amy Palmer, Dave Mershon, Marcia Stiller, Kenny Foster, Josiah Neff, Darrell Kraft, Marcia Neff Treasurer, Lucretia McPeak Clerk, and Mayor Ryan Kienast.
After the crowd united in saying the pledge to the American flag, the Mayor opened the meeting up for public comment.
TIM GRAVES
First, Tim Graves spoke and addressed the water and safety issues that Mayor Kienast had said were at issue during several news media interviews he had set up prior to the meeting.
In referring to these accusations by Kienast, Graves elaborated on what he was working on with the EPA and what needed to be done before he left and what needs to be done now. He received a round of applause by those in attendance. (His full report was in last week's Hancock County Quill.)
Graves and others also pointed out that news accounts were inaccurate that stated the Mayor's newly hired Water Manager from Macomb was contracted through McClure Engineering. They checked with McClure Engineering and was told he did not work for them and they had made no contract with the City of La Harpe.
DANIEL CARPENTER
Daniel Carpenter (past water employee who had been fired by the Mayor), asked Mayor Kienast if he went to Attorney Dittmer's office to talk about the water Ordinance 1084.04. Kienast responded: "You can talk to my attorney," pointing to Kurt Dittmer.
"Your attorney?" Carpenter asked sharply.
Mayor Kienast corrected himself, "The city's attorney."
Dittmer said, "I pretty much discussed it with Marcia, Dave, Ryan, pretty much everyone has come to me... yes."
Carpenter asked Ryan if Dittmer gave him the authorization to change his water bill with Monalisa Grave?
Kienast replied, "Any question you have, go to him," pointing at Dittmer.
Dittmer said, "We are not going to address that."
Carpenter continued: "Ryan, do you or Kurt Dittmer have documentation of your meeting in discussing this change before you went to Monalisa to change your water bill?"
"Again, we are not going to address that here," Dittmer said.
"If you don't, I'm suppose to know that you both met and decided," Carpenter said.
"Anytime a council or committee meeting comes together, they're suppose to take notes. I'm sure Josiah (Neff) probably takes notes and he's the only one on the ESDA committee."
Kienast said, "Josiah is not the only one on the ESDA committee. Your wife would be on there with him."
Carpenter informed Kienast that he was also the assistant ESDA director for the city.
Carpenter continued questioning the mayor, "Ryan, you changed your bill and no one else's bill? Did Delbert (Kreps) bill get changed when Ryan's bill got changed?"
Delbert answered from the back of the room, "Yes! they called me and told me they were going to change it because he changed his."
"Ryan if you didn't need to change the Ordinance before the change in your water billing than why are you changing the way the Ordinance reads now?"
Then he added, "Is the water billing able to be changed by Monalisa?"
Ryan responded, "Any questions you have for me, refer to our attorney."
Carpenter continued, "Monalisa, is the water billing program able to be changed by you?".
"I can change the rate schedule when they raise it," she responded.
BRIAN COVERT
Next, Brian Covert passed out copies of legal documents on three sheets, to each council member which he read and explained on ways legal action could be taken against the Mayor, and council members if certain rules were broken, including an investigation of the City Attorney.
A statue passed in the Ill. General Assembly 720 ILCS 5/33-3) (from Ch. 38, par. 33-3). Sec. 33-3.
Official Misconduct.
(a) A public officer or employee or special government agent commits misconduct when, in his official capacity or capacity as a special government agent, he or she commits any of the following acts:
(3) With intent to obtain a personal advantage for himself or another, he performs an act in excess of his lawful authority.
"So if you guys change Ryan's water bill, David, Marcia, Kurt, you'll fall under that. Ryan you do to."
"Also, in this form you have a single paper for the Illlinois Bar."
Covert continued:
"Back to what Daniel asked, "Kurt, Ryan, did you give the okay to change the bill?" Anybody, come on?
Attorney Dittmer said he was not going to address that here."
Covert getting louder said, "Okay, six council members, Marcia and Lucretia, I'm pretty sure you can do this too. You can fill out this form and send it to the Illinois Bar Association and have Kurt investigated.
"I'm not playing around people." Covert said, and he continued:
Public Act 099-0449
HB3444 Enrolled LRB099 11144 AWJ 31613 b
AN ACT concerning local government.
Be it enacted by the People of the State of Illinois, represented in the General Assembly:
Section 5. The Illinois Municipal Code is amended by changing Sections 3.1-10-5, 3.1-10-50, and 3.1-10-51 as follows:
:(4) Owing a debt to the municipality. A vacancy occurs if a municipal official fails to pay a debt to a municipality in which the official has been elected or appointed to an elected position subject to the following:
(A) Before a vacancy may occur under this paragraph
(4), the municipal clerk ("Lucretia") shall deliver, by personal service, a written notice to the municipal official that (i) the municipal official is in arrears of a debt to the municipality (which would be Ryan, because he changed his bill in June of 15 and then you guys (the council) changed the Ordinance the end of November or beginning of December somewhere in there so you Lucretia need to get together with Monalisa and get the figures and send him a bill or hand it to him personally), (ii) that municipal official must either pay or contest the debt within 30 days after receipt of the notice or the municipal official will be disqualified and his or her office vacated" :etc. Covert finished the relevant part of the ordiance and qustioned the mayor:
"So Ryan, are you going to pay your back water bill that you changed from June of 2015 to November 15? I'm pretty sure I can do it with a FOIA request then we go from there?"
Kienast's response was: "Talk to the City Attorney."
Covert said, "No! I'm asking YOU!"
Kienast: "I'm telling you to talk to the City Attorney."
Covert: "Are you too scared to answer these questions? He's not your puppet.
Kienast: "You're out of line now."
Covert: "Why can't you answer the question?"
Kienast: "You are out of line now!"
Others from the crowd piped in "No!" "I don't think he is." "It's not fair" etc.
Dittmer: "This has all been addressed before. Let's just move on."
Someone asked Dittmer: "Are you going to fight against him when he sues the city?"
Another said: "Probably not."
Covert: "So, what you are saying:
Kienast: "I told him he was out of order remove him officer.
:several shouted: "Freedom of Speech" .... "Freedom of Speech" ..... "He's not being disruptive!" "No!" "No!"
Covert: "I'll go out on my own accord!" "But let it be known if I owe a bill, my a-- will be charged a debt!" "And my water will be shut off!" As Covert went out the door, the audience applauded and cheered.
A lady shouted to Kienast: "Has your water been shut off?"
A man shouted: "It needs to be!"
Another shouted: "It won't be!"
DAVE CLOVER
Dave Clover was next to the podium saying he HAD sent numerous messages to Ryan, so he asked: "Are you the Mayor of La Harpe?"
Kienast: "Yes!"
Clover: "Are you a public official- elected?"
Kienast: "Yes"
Clover: "Am I a citizen?"
Kienast: "Yes"
Clover: "I sent you probably ten questions and you never answered and all I said is, "Why are you doing this to our town? And you never responded one time. Can you respond now-Why.... why are you doing this?"
Kienast: "What am I doing?"
Clover: "What is the point of it?"
Kienast: "I'm just trying to make the town right.
"More rumbling from the crowd had Kienast saying: "You're all out of order!"
Clover: "Since you have threatened to sue the city of La Harpe ....does everybody know that? If we don't give him what he wants, he's going to sue us..
Clover explained that when you tell someone they are going to do what you want them to do are they are going to pay, that's extortion!. I've got five different places and that is exactly what it is.
Ryan asked if anyone else hadany public comment.
STACIE PENCE
Stacie Pence: "Your water bill was changed. Where's Delbert at? Was yours changed?"
Delbert: "It was."
Pence: "But you probably took care of yours. I know you better. You offered to because I was here at the meeting when you did.
Pence: "You are going to sue our city, which you are suppose to be the head of our city, which makes absolutely no sense! But I bet it's a pretty good chance Delbert is going to pay his bill and he is not going to sue the city."
MICHELLE BROWN
Michelle Brown said "When you were running I feel like you ran because you helped with the Easter Egg Hunt, you helped with the Christmas parade, you wanted really good things for the town because you've done good things for the town. Do you think since you've been Mayor you've done what's best for the town?
Kienast: "Yes, I do."
Brown: "Can you tell me, Why. I mean with this crowd here and everything that has gone on that you think your actions are best for the town.
Kienast: "I do! I think they are best for the town."
Brown: "Do you have people come and talk to you?"
Kienast: "Yes"
Brown: "Do you not understand their concerns?"
Kienast: "Yes, I understand a lot of their concerns."
Brown: "Why don't you fix them?"
Kienast: "You're out of line!"
Brown: "Have you done anything to try to fix it.
Kienast: "Yes"
Brown: "What?"
Kienast: "Work on a lot of problems that are there.
Brown: "Can you be more specific, cause I haven't seen it.
Kienast: " All along. Try to come to see me sometime and I will try to show you what I've try to work on.
Brown: "I feel you are letting a lot of people down. People that voted for you feel you are doing the exact opposite of what they thought you were going to do. I've read all the minutes in the paper and everything, but I have never seen anything this insane! I use to get asked all the time at work....where are you from in Illinois. Are you from Lomax and I would say, oh no, I'm from La Harpe. But now, it's embarrasing because everyone knows about this and thinks it's a giant joke and then now we get to add to it that you are threatening to sue us? Is that in the best interest of the town?
Kienast: "I have nothing else to say to you."
Brown to the council: "Well, you guys might want to think about that when you're going to redo the bandstand...in case we need to pay the Mayor off later. You might need that money in your ACCOUNT! "
She asked Council members, "Do you guys think the Mayor is doing the best for this town? Can you honestly say that everything that has happened is best for this town? Anyone on this side? No comment? It sure is fun to be starred at!" Brown said, and walked away.
MICHELLE McCONNELL
Michelle McConnell: said it has always been a peaceful town and it has never been this bad and that she didn't want her children walking through a town with people that are angry. They are just angry and it has never been like this in La Harpe. And I'm sorry Ryan but I feel like since you have been Mayor it's just a feeding of angry people and it's sad. It's really sad.
ED PENCE
Ed Pence: Handed out a page from "Robert's Rules of Order" asking his alderman to put on the agenda for next meeting for a vote of "NO confidence in the Mayor."
BOB SHUTELL
Bob Shutwell: from outside town was planning on moving into La Harpe where he remembers it as a peaceful city. He is now giving it second thoughts. He asked them to get over with the fussing and move on.
IN OTHER ACTIONS:
After public comment the La Harpe City Council:
discussed the water billing Ordinance again and Attorney Dittmer asked for input from the council and he would draft up 3 or 4 Ordinances to look at at the next meeting.
Carpenter left the meeting at this time telling the Mayor: "If you had just paid your water bill there wouldn't be all this trouble."
Kraft made the motion to donate $425 to the La Harpe Classic Car Show, seconded by Neff, all approved.
Stiller stated the city wide clean-up date is May 27th.
Neff reported the Equal Representation Ordinance will be on the next agenda.
Kraft motioned to put a hold on remodeling the dowhstairs at city hall and instead return to the plan to put a roof on the bandstand in the city park. Mershon seconded the motion. Motion carried unanimously.
Kraft reported on a tree to be removed at 104 W. Archer and will be on April 11th agenda.
Mershon motioned to go into Executive session to discuss personnel issues seconded by Stiller. Motion carried with a 5 to 1 vote, with Neff voting no.
Regular meeting ended at 8:03 p.m. and executive session began at 8:06 with Amy Palmer, Dave Mershon, Marcia Stiller, Kenny Foster, Josiah Neff, Darrell Kraft, Lucretia McPeak, and Mayor Ryan Kienast and attorney Kurt Dittmer. Tim Graves was asked to join at 8:30 p.m.
Regular meeting resumed at 9:11 pm. with all council members present.
Kraft made the motion to waive the requirements of the 1st paragraph of the amended personnel policy to allow the rehiring of a previous employee with a majority vote. Palmer seconded the motion. Motion carried unanimously.
Kraft made the motion to re-hire Tim Graves as Water Supervisor. Foster seconded the motion. Motion carried unanimously.
Mershon made the motion to continue the temporary contract worker for 30 days. ¥Stiller seconded the motion. Motion carried with a 4 to 3 vote, with Stiller, Mershon and Foster voting yes, and Neff, Palmer, and Kraft voting no, and The Mayor voting yes to break the tie.

Brian Covert raises his hands saying he will leave the meeting on his own accord after Mayor Kienast tells an officer to have him removed for being "out-of line." Covert was pushing the Mayor for answers saying: "Are you going to pay your back water bill Ryan?"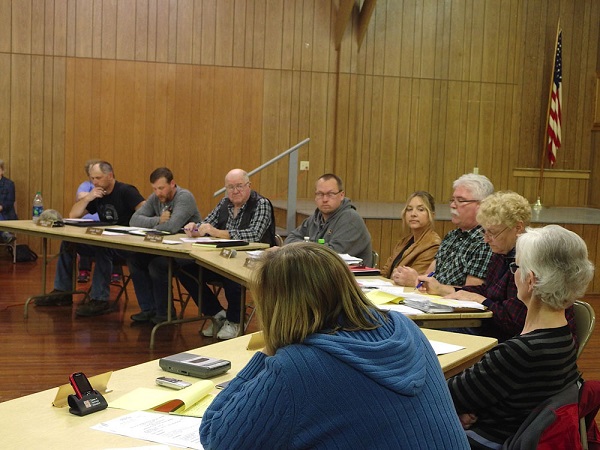 Council above from back left: Kenny Foster, Josiah Neff, Darrell Kraft, Amy Palmer, David Mershon, Marcia Steller, Marcia Neff and Clerk Lucretia McPeak.
---