The Hancock-Henderson Quill, Inc.
---
Positive Changes Are In Store for R & D Foods by New Owner
-by Deb Olson, The Quill
La Harpe- When you first meet the new owner of R & D Foods, Muhammed Tarique Khatri, he welcomes you to his store and he asks you to call him Tarique (pronounced Ta-reek)
A positive and friendly man, Tarique related that his life is built upon respect and love of God, family and giving back to this country he has called home for nearly 25 years.
Earlier this month he acquired R & D Foods in La Harpe from previous owners Delbert and Rhonda Kreps who had operated the business for the past 18 years.
In discussing his new venture Tarique will tell you that he wants to provide a good service to his customers, make a good effort and make sure things go well.
He is happy to have a new business, a new city, and new people to get to know. He enjoys the idea of having new challenges.
Tarique, who began his new venture on September 10th, is looking forward to making positive changes at the store.
Since his first day he has been getting to know his employees, learning the business and evaluating what his next move will be.
He is looking at new ideas for the store. For example, he is bringing in a coffee machine through Ronocco Coffee to compliment the tasty donuts that are served in the store in the morning. He is considering other changes, as well, based on careful analysis of how the store operates.
Born in India, he attended Hinduja College graduating with a 4 year Bachelor's Degree. Tarique moved to the United States in 1991 settling in the Chicago area.
In 2001 he became a United States citizen, a day which is special to him. He pursued a variety of business opportunities before deciding to purchase the La Harpe grocery store. His first marriage ended in divorce but made him the proud father of a son who is now 16 years old.
He is happily remarried and is looking forward to his wife's arrival in Macomb where they have made their home. Currently recovering from foot surgery, she is staying in the Chicago area until she finishes with physical therapy sessions.
When not working Tarique enjoys watching cricket, a sport he learned as a youth.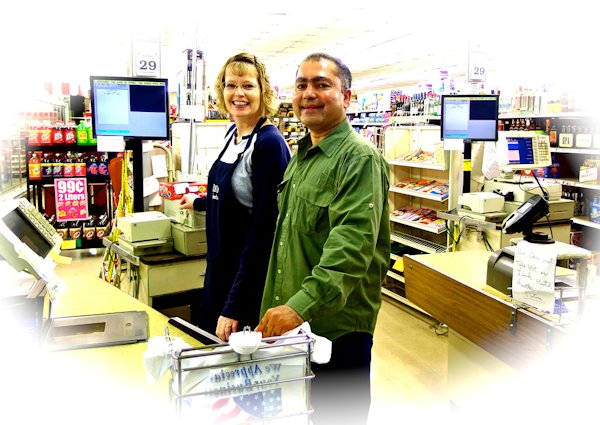 New owner of R&D Foods, Tarique Khartri, and his employee, welcomes you to his store in La Harpe.
---