The Hancock-Henderson Quill, Inc.
---
Stronghurst's BBQ Cook-off and First Fall Festival A Blast!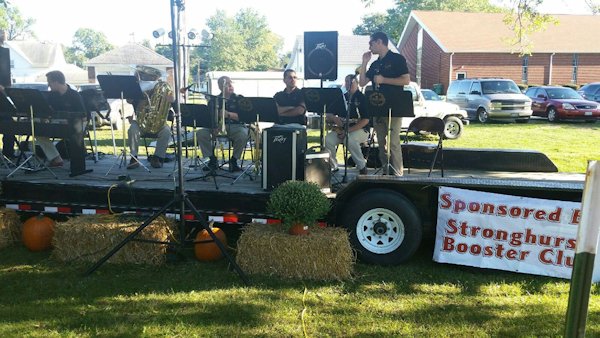 Stronghurst- September 19, 2015 the Stronghurst Booster Club hosted the 3rd Annual BBQ Cook Off and the 1st Annual Fall Festival!
The smell of fresh donuts and cider filled the morning air and welcomed the beautiful day to follow.
Gorgeous fall mums and lots of pumpkins decorated the park. A large crowd came out to enjoy the craft vendors and sample the BBQ.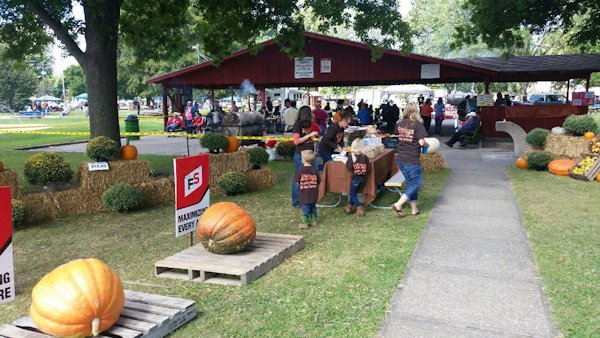 There were 7 very large pumpkins entered in the Great Pumpkin contest. Only a few scarecrows for the scarecrow contest. A few teams even tried their skill in the Baggs Tournament.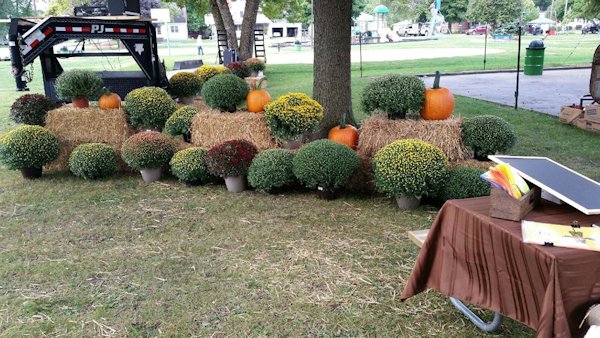 Several children had fun getting their faces painted, riding in the kiddie wagon rides and even a few chose to enjoy the new Spray Park.
Live music by Rob Hull and Paul Bishop, Joyful Sounds and The Maple City Jazz band were enjoyed by those attending the festivities.
Throughout the day many families also had fun posing for pictures in the fall-themed photo booth.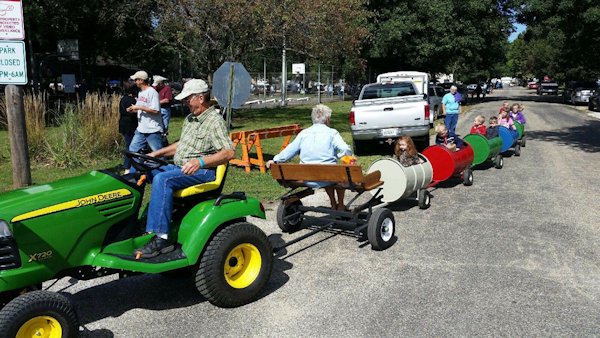 The day ended with Horse drawn wagon rides and a salad supper and a warm feeling about your town.
There were a lot of winners on Saturday:
The Baggs Tournament was won by Matt Jern and Josh Peel.
The Great Pumpkin Contest was won by Addison Burrell whose entry topped off at 317 pounds. The person whose guess was closest was Cody Hardin at 315 pounds. How many pies could that make?
BBQ contest winners were Team Fishers with 1st place for Pork, Beef and the Open category, Up in Smoke took 1st place in the chicken category as well as The People's Choice for best all around BBQ. Door prize winners were: J. Lundall, Yvonne Knapp, Raven Plate, Virginia Ross, Andy Chockley, Nola Talbott, Jim Fisher and Allison White. The Scarecrow contest was won by Jim Blender.
The Stronghurst Booster Club appreciates the Bank of Stronghurst, Fishers Food Center, West Central FS, Bygones and Buds, Security Savings Bank, Debbie Clem from the Alternative, H&H Feed, Stronghurst Auto Body, Plate Services, Smiths Coin Laundry, Eagleview Health Services, Raritan State Bank, Village of Stronghurst, FOCC, Farmland, Broadway Cafe, Delmar Jacob, Brad Flatt, Myles Lefler, Bryan Heap, In The Garden, Lightning Designs, The Pink Tavern, Gittings Family Farms Hilltop Harvest and last but not least all our volunteers for their sponsorships, donations and time.
We hope to see everyone next year on September 17, 2016. If anyone has suggestions or comments about this year's event or to become a Booster member please contact the Booster Club. Meetings are the First Monday of the month at noon in the Fire Station.
Happily submitted by Shelly Gittings, Booster Club Member.
---