The Hancock-Henderson Quill, Inc.
---
Hocker Sworn In As Postmaster
-by Deb Olson/The Quill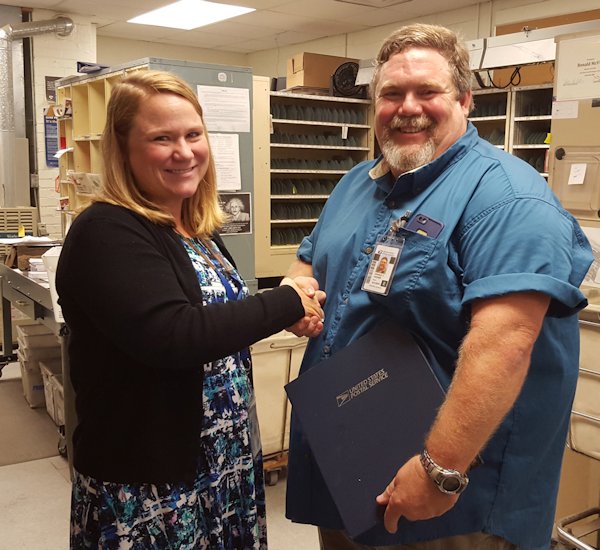 photos by Lisa Ray
Oquawka-Donald Hocker is the newly sworn in postmaster in Oquawka. He was officially sworn in last Wednesday, Sept. 9th at the post office by District Manager of Post Office Operations Laura Rohlfs. She is congratulating DJ in the picture here.
An interesting fact is that new postmaster takes the same oath of office as the President of the United States and when entering the military.
DJ currently lives northwest of Tennessee, IL.
He is the divorced father of two daughters, Jaimee of Savannah, GA and Tanya of La Harpe.
He has three older brothers Franz (Nova) of Eisenstadt, Burgarland, Austria; Raymond (Jan) of Colchester and Walter (Linda) of Peoria. His parents and grandparents are deceased.
He was born in Macomb and raised in Colchester. After graduating from Colchester High School in 1981 he entered the US Army.
He completed Army Infantry School in February 1982, Army Airborne School in August 1982 and Army Ranger School in 1983.
He participated in the combat jump into the island of Grenada during Operation Urgent Fury in October 1983. He spent 4 years in the US Army, 2 1/2 years as an Army Ranger assigned to the 1st battalion 75 Ranger regiment as an Airborne Ranger.
He also spent 5 years in the Army Reserves.
Donald attended classes at Western Illinois University from January 1986 through April 1987.
Before beginning work with the US Postal Service he held a variety of jobs in or near Macomb, including various factory positions like machine operator, shop foreman, and tool grinder.
DJ also did farm work and was a greens worker at Harry Mossato Golf Course at WIU in Macomb. He began working for the USPS in 2004 and has been a rural carrier, a letter carrier and worked in sales and service.
On February 10, 2015 he became officer in charge of the Oquawka Post Office.
On June 13, 2015 he was awarded the position of Oquawka Postmaster.
In his new job he is the Administrative Postmaster for Oquawka, Keithsburg, Seaton, Little York and Gladstone. He is in charge of all 5 offices.
He deals with customer concerns, supplying all the offices with whatever is needed, trying to grow the postal business.
He does administrative duties, sorts mail and works the window assisting customers.
He said of his job, "I enjoy working with the employees under me and interacting with the customers.
Things were quiet to begin with but then the customers started warming to me and I to them. Bantering with the customers is the best part of the job."
In his spare time he enjoys farming, hunting, fishing, camping, BBQ, cooking, leatherworking, woodworking, hayrack rides and bonfires.
He also enjoys visiting with his family in Austria enjoying the many different customs, sights, foods and environments as well as seeing the varied history and architecture of the country.
He lives by two mottos, "It is what it is" and "Treat others as you want to be treated."
---