The Hancock-Henderson Quill, Inc.
---
Long Time Grocery Owners Sell R&D Foods; Continues With Catering Business
by Dessa Rodeffer, Quill Publisher/Owner
After serving La Harpe in the grocery business for 18 years, Delbert and Rhonda Kreps have sold their business and are moving their catering services across Highway 9 to the Annex where Rhonda will continue to turn out her delicious meals for special occasions.
"It's been really hard," Rhonda said, who said she will miss working with all the employees she left at R&D FOODS.
Delbert said, his business has been listed for 3 or more years and he even had a down payment from a buyer at one time, but they backed off from the purchase.
Finally, he said, at 71 I am out of debt and I will have time to sneak Rhonda away for a vacation ocassionally.
"We'll see," Rhonda answers doubtfully, as she remains very busy with a successful catering business.
Delbert was scurrying around to set up the kitchen of "THE ANNEX CATERING, INC. which will essentially be Rhonda's new home for cooking. She is preparing for two different catering affairs this weekend after just finishing up serving 760 people last Saturday at four different locations. Rhonda and Delbert's catering along with the three areas of The Annex has been a very popular business in the area. The three rooms can hold 200, 180, and 40 and her food offerings include roast beef, swiss steak, pork chops, popular ham balls, and many more. "Sorry folks but we are not continuing Fried Chicken," he said as they will not be running a fryer.
Last Saturday, their catering was a wedding in The Annex, Sullivans & Son south of Carthage, Jerry's (Lewis) Barn at Good Hope, and Annex II where they served the Rocky Mountain Elk Foundation dinner of 80 or 90 present. Tim Jack is President of the group. Delbert was encouraged to buy his first grocery store at age 19 from his boss, Gene Ross who ran Gene & Bev's in Blandinsville and La Harpe. With Gene as his mentor he purchased the Hiway Grocery in Good Hope from Bill Castlebury and ran it for 20 years.
He closed it at age 40 and went on the road selling cleaning supplies and refinishing gym floors. In fact he said he did over 500,000 square feet of gym floor refinishing with an average gym floor being around 8,000 sq. ft. He incorporated some good help from friend Don Terrel who has been helping him ever since.
In fact, Terrel along with Craig James from Plumbing Etc., and Mark Stokke, of MBS Construction were busy in the Annex doing amazing things to get Rhonda's kitchen in ship shape for her weekend catering committments.
Delbert returned to the grocery business after Gene Ross had a stroke to help out his wife Bev as the store manager. Three years later he bought the store January 1st, 1997. For 18 years he served the people of La Harpe while at times having a store in Colchester, Blandinsville and Industry. Gene closed Industry and Blandinsville and sold the Colchester store going from 40 to finally 16 employees working 7 days a week from 7 a.m. to 9 p.m.
Customers can use the rooms at The Annex for their catering affair or for $20 they will travel to the home or venue.
"Rhonda is a fantastic cook and organizer of meals", Delbert said of his wife.
For anyone wanting their services Rhonda's cell phone is 309.333.8744; and Delbert's cell phone is 309.333.3414.
While Delbert has sold R&D Foods, he is helping the new owner until the end of the month and said all the help will remain with R&D Foods.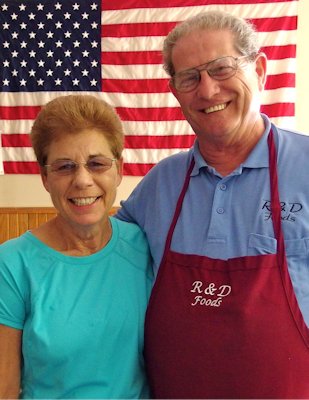 Delbert & Rhonda Kreps
---