The Hancock-Henderson Quill, Inc.
---
Love La Harpe Committee Meets "Ella" Their Peace Corps Worker
The Love La Harpe Committee met with the new Peace Corps worker, Ella Lehmann, and her boss Karen "KMC" Muldin-Curtis.
Ella is with the Fellowship Program Peace Corps through Western Illinois University and will be in La Harpe for 1 year through Love La Harpe and an USDA Grant.
The Peace Corps Fellow Program through the Illinois Institute for Rural Affairs, places returned Peace Corps volunteers who are graduate students at Western Illinois University in rural communities for full time 11-month internships to work on community and economic development projects.
She will be working closely with the volunteers of Love La Harpe to implement the initiatives outlined in the MAPPING action plan.
The gathering took place on Friday, October 9th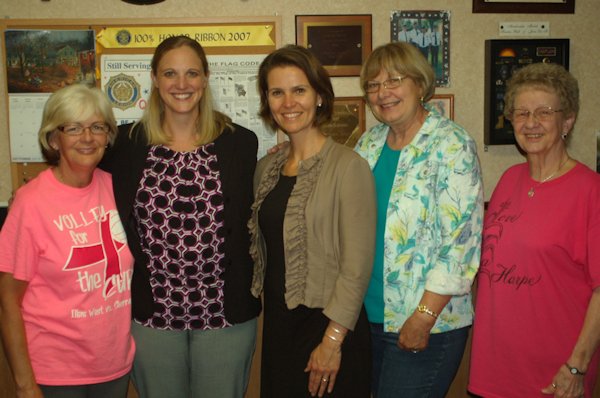 Mapping Action: The LOVE LA HARPE committee with representatives from the Peace Corp are from L to R: Candy Lee, Love La Harpe Secretary/Treasurer, Ella Lehmann, Fellowship Program Peace Corps, Ella's boss-Karen "KMC" Muldin-Curtis, Elaine Hrabal, Love La Harpe President, and Bette June Mapes, Love La Harpe Vice President
---