The Hancock-Henderson Quill, Inc.
---
4-H Club have tree planting in "Curt's" memory
A beautiful autumn maple tree was planted at the Henderson County Public Library in Biggsville on Sunday afternoon by the Happy Rock Clover 4-H Club in memory of the late Curt Eisenmayer of Stronghurst who died at age 90 on September 4th. 4-H leaders Darrell and Lynne Gittings of Stronghurst and Kara Bigger of Gladstone said the memorial was in place of flowers to honor Curt's request and to continue on with his preservation and conservation legacy. "He judged many of our fair projects," Darrell said, "and when I was 12, I took my first hunter safety course from Curt." Since 4-Hers hold their meetings at the library, it was a good place to plant a tree honoring "Curt."
From left are Lynne Gittings, Corinne Booton, Cassie Link, Todd Lant, Darrell Gittings, Kami Endress, Dayne Gittings, Abby Steck, Mrs. Curt (Sharon) Eisenmayer, John Steck, Jordyn Peterson, Ruby Gittings, Lacey Bigger, Brock Bigger, Kara Bigger, Nancy Guffey and Gene DeVol (Burlington,IA) and Library Director Anita Smith. -photo by Dessa Rodeffer, Quill Publisher-Owner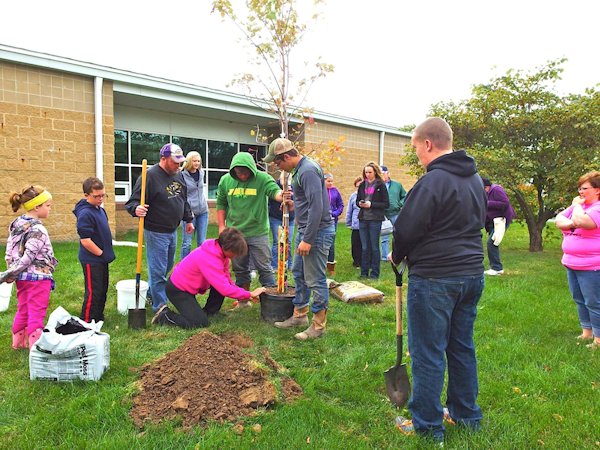 Curt Eisenmayer's legacy lives on, as Happy Rock Clovers 4-H Club met at the Henderson County Public Library Sunday to plant a Maple tree in memory of Curt and his conservation and preservation practices.
---