The Hancock-Henderson Quill, Inc.
---
Take "The Quill" Along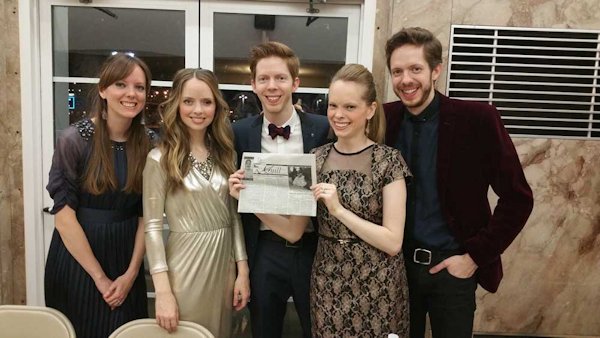 Last Thursday, "The Quill" traveled with Quill publisher Dessa Rodeffer, to hear the talented classical pianists "The 5 Browns" who performed at the Burlington Memorial Auditorium.
The five siblings, from Utah, delighted the crowd answering three curtain calls at the end of their two-hour performance. After the third standing ovation, the Browns returned to play the short "Flight of the Bumblebee," an orchestral interlude written by Nikolai Rimsky- Korsakov for his opera The Tale of Tsar Saltan, composed in 1899-1900.
When you go on a trip, take "The Quill" along and have your picture taken with it, and send it to us. Let's see where all the Quill can travel.
---