The Hancock-Henderson Quill, Inc.
---
Take "The Quill" Along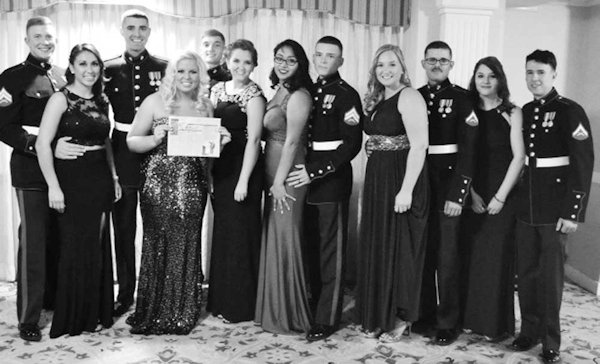 Kevin and Ali Burgus formerly of Stronghurst, and friends traveled from their homes in San Diego, CA to Las Vegas to celebrate the Marine Corps birthday. The United States Marine Corps Birthday is celebrated every year on 10 November with a traditional ball and cake-cutting ceremony. On that day in 1775, the Continental Marines were established. All Marines pictured are a part of the 1st Combat Engineer Battalion at Camp Pendleton California. Left to right: Matt and Karen Bicskei, Kevin and Ali Burgus, Ryan Huerman and Kristina Lewis, Matt and Alyssa Miller, Adrianna Mericle and Dylan Drum, Tawny LaFlower and Chris Wallace. When you go on a trip, take "The Quill" along and have your picture taken with it, and send it to us. Let's see where all the Quill can travel.
---