The Hancock-Henderson Quill, Inc.
---
Service At Stronghurst Cemetery
Pays Tribute To Fallen Heroes
by: Shirley Linder, Quill Editor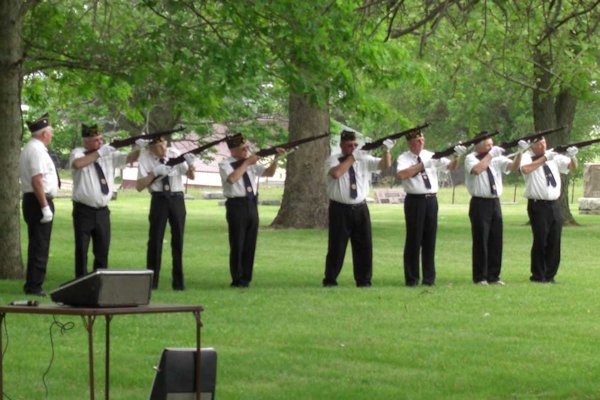 The weather cooperated but, sadly, only a handful of people attended the Memorial Service held at the Stronghurst Cemetery Sunday, May 24th to honor our deceased veterans.
A small flag was handed to each attendee by a boy scout as participants entered the cemetery.
Fran Work of the American Legion Auxiliary Post 765, opened the program with a welcome and then introduced speaker, Pastor Karna Peterson of the Carman-Stronghurst United Methodist Churches. Pastor Karna, after a few words, read the following poem written by Kelly Strong:
"FREEDOM IS NOT FREE"
I watched the flag pass by one day,
It fluttered in the breeze;
A young Marine saluted it,
And then he stood at ease.
I looked at him in uniform,
So young, so tall, so proud;
With hair cut square and eyes alert,
He'd stand out in any crowd.
I thought:how many men like him
Had fallen through the years?
How many died on foreign soil?
How many mothers' tears?
How many pilots' planes shot down
How many died at sea
How many foxholes were soldiers' graves
No, Freedom is not Free.
I heard the sound of Taps one night,
When everything was still;
I listened to the bugler play,
And felt a sudden chill;
I wondered just how many times
That Taps had meant "Amen"
When a flag had draped a coffin
Of a brother or a friend;
I thought of all the children,
Of the mothers and the wives,
Of fathers, sons and husbands
With interrupted lives.
I thought about a graveyard
At the bottom of the sea,
Of unmarked graves in Arlington.
No. Freedom is not Free!
Following a prayer by Pastor Karna, Fran Work returned to the podium to read a list of all veterans buried in the Stronghurst Township Cemeteries, which included, Stronghurst, Watson, Maple Grove, Hopper, and Olena.
Mildred Anderson of the American Legion Auxiliary, read "Tribute to American Warrior" before The American Legion Post #765 gave the final 21 gun salute.
Taps were played, ending the patriotic tribute of rememberance of America's fallen heroes.
---