The Hancock-Henderson Quill, Inc.
---
West Central's 10th Graduation - Promotes Class of 2015
by Jacob Irish, Quill Reporter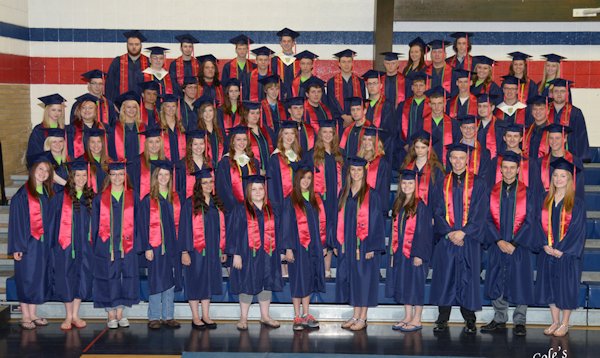 West Central High School's 2015 graduating class entered the auditorium May 17th to the beautiful piano piece, Pomp and circumstance played by Mrs. Barb Gray.
The celebration began with a welcoming speech by Alexandria Pirtle, S.C. Sec., Regan Bowman, S.C. Treas., and Madeline Cooper, S.C. Vice Pres.
Greetings class of 2015; we made it. We're finally graduating. It's remarkable, isn't it? I think I speak for most of us when I say that these last four years went by faster than we ever imagined they would. I remember being a freshman and thinking about how long high school would be, but the thing is I remember thinking about that as if it was last week. Getting our permits, and then getting out licensees, applying and getting accepted to college, it all happened so fast.
The trio reminisced about their wonderful journey together throughout their education at West Central High School. They mentioned all of the technological innovations that have come about throughout their lives such as computers when they weighed more than a sack of potatoes and colored in the blandest shade of beige there ever was& and those practically indestructible flip phones many of us received as our first cell phones. Yes, Motorola RAZR, I'm talking about you.
Regan Bowman rounded off the welcoming speech by addressing his class mates with some of the great things he will miss about West Central High School. The friendships, the constant laughter, and all of the good times.
The officer's address was then given by Katlyn Johnson and Logan Torrance. Katlyn is the Class President of 2015, while Logan is the President of the Student Council at West Central High School.
Together they addressed the class of 2015 with mixed emotions of joy and sadness.
Katlyn began the address with the following words:
Today is the day we have been waiting for, class of 2015. Today is the day we will graduate high school and start a new chapter in the book of life. There are so many mixed emotions today, as some of us are excited for the new journey we are about to begin, and some of us are sad to see the last chapter of our life go.
Logan then took the microphone to take a trip down memory lane:
Does anyone remember third grade? During the 2005-2006 school year the Union school district and Southern school district consolidated and formed a new young district. At the young ages of 8 and 9 the first group of West Central third graders was assembled. Our elementary days now seem pretty short, but who can forget the 5th grade talent show? On that day we had musicians, comedians, turkey hunters, and maybe a group dance or two.
From there we move onto middle school. Dressing for P.E. and switching classes were almost too much to handle, but we still got recess. It's hard to forget the middle school dances. You know, back when we couldn't slow dance without being in a line. Some other highlights of middle school are spending study hall in the library, trips to FS and Kone Korner before basketball games, the Middle School plays, and pretty much any time Mr. Gibb substituted.
Then four short years ago we found ourselves in high school. High School has blessed us with many memories that we will cherish for a long time. We'll always remember fall time in the school with homecoming week, volleyball games, golf meets, and everyone just being able to be back together for another year together. We can t forget basketball season and the new tradition of pink out night. And to wrap it up the spring time. Every spring we find ourselves busy with sports, or plays, or work, maybe even counting the days down to prom, and before we know it we say good bye to some great friends.
Kat:
We begin High School as children, but we're leaving here as adults. We've completed a basic education that will serve as a platform we use to launch ourselves into our futures. Some of us will go onto college, others will go straight into the work force, but each of us will travel our own path. Everyone graduating today has the potential to follow their dreams, big or small. None of us know what the future has in store for us. This next year we will encounter entirely new groups of people and places, and hopefully we can take the experiences and knowledge we have gained these past four years with us and put it to use.
Logan:
In summary we have been through a lot together and hopefully everyone can walk away today with their heads held high that not only did they graduate from West Central, but they graduated with the kids sitting next to them. It s been a long road, but it s only just beginning. Thank you.
Mr. Scott Schneider took the floor to recognize the top ten students of the 2015 graduating class. Students graduating with the top 10 GPAs are:
Justin Alberts
Regan Bowman
Madeline Brent
Zach Brewer
Jessica Cupps
Kayla Droste
Taylor Link
Alexandria Pirtle
Joshua Strader
Taylor Rice
Mr. Randy Frakes presented four students with the Student Service Award on the behalf of the F.I.R.E Service Club. In order to achieve this award, students must volunteer within the community for a total of 300 hours. The students that achieved this tremendous accomplishment are:
Amanda Cochran
Adelaide Norzagaray
Callie Thacker
Adam smith
Zachary Brewer addressed his fellow classmates during his Salutatorian Address. Zach recalled on the things he didn't know as a freshman such as avoiding slamming the lockers in the freshman hallway, or the difference between a monocot and a dicot
Zach left his classmates with this powerful statement:
You are all ambitious young adults and you all have the potential to go far in life. I hope you don't forget where you came from and always represent West Central High School well. Remember that you are never too old to learn something new and always strive to do so diligently.
Lonnie Brent and the rest of the West Central School Board presented the Board Academic Excellence Award to Taylor Rice. Recipients of this prestigious award have achieved a 4.0 grade point average for the 2014-2015 school year. Taylor Rice is West Central High School's 2015 Valedictorian!
Taylor addressed her class with these inspirational words about the future:
Hello everyone, my name is Taylor Rice and I know what all of you are thinking, and don t worry, this will be short. I want to start off by thanking all the people who have helped us get to this spot today. I'd like to thank our parents, family, friends, and teachers. But the main person we should all be thanking is ourselves. We have dealt with a lot these past four years, and without the motivation and strength within ourselves, we would not be here.
Now I know everyone always talks about how they can't wait to get out of this place and move on with their lives, and trust me I am not ashamed to say I am one of those people. But what we must remember are the memories from this time which we will forever hold dear in our hearts. Not only that, but the people which have made an impact on us. But the most important thing to remember is that these won t be the best years of our lives. We will experience the greatest times many years from now. There is so much more out there which we are yet to discover, and all we have to do is go out and get it.
I just have one last thing to say to you all, and it's a quote from my favorite TV show. The rest of your life is a long time, and whether you know it or not, it's being shaped right now. You can choose to blame your circumstances on fate, or bad luck, or bad choices, or you can fight back. Things aren't always going to be fair in the real world, that's just the way it is, but for the most part you get what you give. Let me ask you all a question. What's worse, not getting everything you wished for or getting it but finding out it's not enough? The rest of your life is being shaped right now with the dreams you chase, the choices you make, and the person you decide to be. The rest of your life is a long time and the rest of your life starts right now.
Following the Valedictorian Address, Madeline Brent and Jessa Waterman took the stage to perform a beautiful rendition of the song, For Good from the popular musical, Wicked.
West Central School Board Member Lonnie Brent then took the floor to share a few words of wisdom to the graduates.
Congratulations on a job well done, and congratulations for being the 10th class to graduate from West Central High School.
Brent sympathized with the students by letting them know that the anxiety they feel is natural. If you have these feelings today, please know these feelings are all okay and that they are the same feelings your family and friends had on their very own graduatio n day.
Have passion for what you do, dream big, and learn from your mistakes, said Brent. Brent explained that if your passion continues to burn you will achieve things you could never have imagined. The students were asked to dream big, and defy expectations. Any one of you has the ability to cure cancer, end ISIS insurgency, or even become the next CEO of Uber, all you have to do is dream big! Brent also made it clear that everyone makes mistake, he assured everyone that they will at some point make a mistake themselves. He made it clear that it is not the mistakes that define a future, instead it is how the individual deals with adversity throughout his or her life.
Before presenting the students with their diplomas Dr. Brent asked to take some time to recognize three retiring West Central staff members. Mr. Gary Rickets will be retiring after 34 years of service as an Art Teacher. Mr. Jeff Nichols, the current principle of the Middle School is retiring after 34 years of service. And Mrs. Nola Talbott, retiring as a bus driver from West Central after serving 42 years.
Class Vice President Kayla Droste and Class Secretary Emily Ferguson took the stage for one last note. Emily said, It didn't matter how awesome or how tough the situation was, we always came together to get through it when talking about the up and down struggles of consolidating, the awkwardness of middle school dances, and the fear of high school.
Kayla made it clear that the class of 2015 is not just a group of classmates, they are lifelong friends. Kayla sent her fellow graduates off with this last statement: We leave here today not only as 2015 West Central High School graduates, but as the makers of many memories, as legends, role models, and most importantly, as friends
Together Kayla and Emily were given the honors of making it official, together they addressed their fellow graduates with one last request. And now, class of 2015, please rise, and turn your tassels.
The gymnasium instantly turned into a frenzy of tears and excitement as students sprayed silly string into the air, and families screamed in excitement. The image was absolutely breathtaking.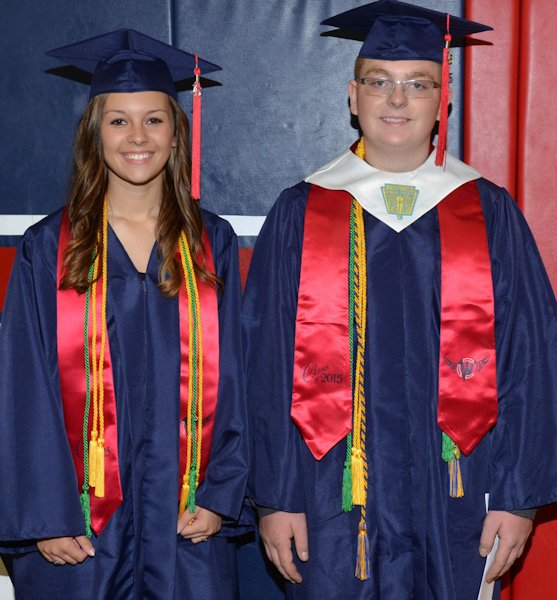 WC Valedictorian Taylor Rice, Salutorian Zackary Brewer
-photo by Cole's Photography
---
---