The Hancock-Henderson Quill, Inc.
---
Illini West High School Graduates 82 Seniors
by Joanna Sholl for The Quill
Carthage, IL: Sunday, May 17th, 82 of the 88 seniors of the Illini West Class of 2015, participated in the graduation ceremony held at Illini West High School.
After the IW Band, under the direction of Mrs. Linda Hartweg, performed the graduation march Pomp and Circumstance, Principal Brad Gooding welcomed the capacity crowd with a message to the graduates.
This graduating class of 2015 is the first class Mr. Gooding has had the pleasure of seeing pass through all four years of high school, since he took over the helm at Illini West High School.
Mr. Gooding wished the seniors the best of luck in their future plans, and closed with a reference to the song lyrics to Bob Dylan's Forever Young .
"May God bless and keep you always, May your wishes all come true, May you always do for others, And let others do for you, May you build a ladder to the stars, And climb on every rung"
"May you grow up to be righteous, May you grow up to be true, May you always know the truth, And see the lights surrounding you, May you always be courageous, Stand upright and be strong"
"May your hands always be busy, May your feet always be swift, May you have a strong foundation, When the winds of changes shift( May your heart always be joyful, And may your song always be sung, May you stay forever young, Forever young, forever young, May you stay forever young."
Three students finished their high school career with a perfect grade point average of 4.0:
Josie Finch, daughter of Jason and Carrie Finch,
Wyatt Newberry, son of Maggie Bolens and Andrew Newberry,
Shelby White, daughter of Rodger and Jan White.
These students each addressed the class and audience with reflections from the past four years of high school, referencing song titles with meanings as applied through the eyes of a senior, words of advice, and special thanks to the teachers and support groups that guided them through their high school careers. Wyatt Newberry even paused to take a selfie .
American Legion representative Michael Blythe recognized the winners of the American Legion Award, awarded to two students chosen by the faculty at Illini West.
Those who receive a medal must exemplify six qualities that define character: courage, honor, leadership, patriotism, scholarship and service.
The recipients of this year's American Legion Award were Kristin Doyle, daughter of Mike and Crystal Doyle, and Wyatt Newberry, son of Maggie Bolens and Andrew Newberry.
The DAR Youth Citizenship Medal was presented by Mr. Gooding to Ashlyn Henderson, daughter of Don Henderson and Angie Henderson. The DAR medal is presented to a student who exemplifies the qualities of honor, service, courage, leadership, and patriotism.
Mr. Blythe also recognized the graduates who will be entering the military force upon graduation. Those students included Tucker Anderson, Joe Bauer, Jeffrey Ufkes, Dusty Waddell, and Reece Martin. These men received a standing ovation, and an unspoken show of gratitude from the audience. Principal Gooding proceeded to call the class of 2015 to the stage to receive their diploma. Members from the three communities of La Harpe, Dallas City, and Carthage, family and friends, wish the graduating Class of 2015 the very best for the future, and commend them for the hard work and dedication put in for the last four years to make this day possible.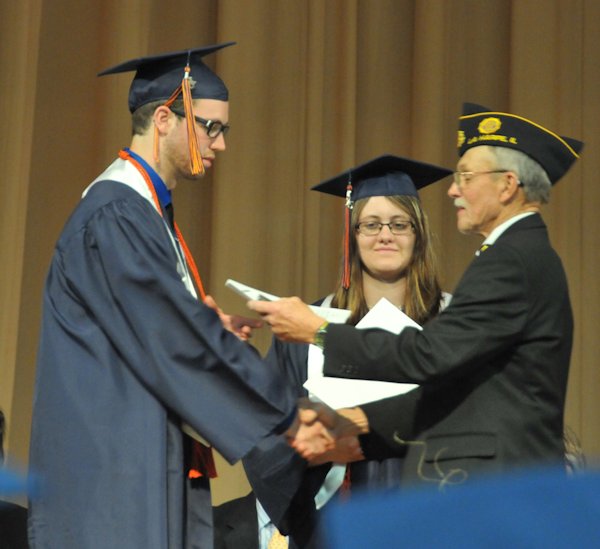 Wyatt Newberry and Kristin Doyle received the American Legion Award from Michael Blythe of the American Legion, La Harpe.
-photo by Joanna Sholl for The Quill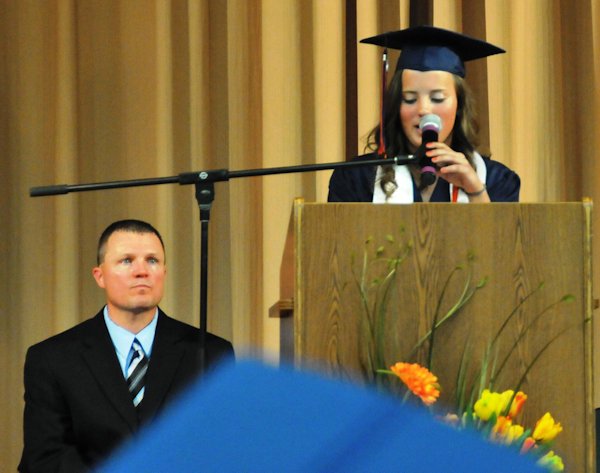 Josie Finch addresses her class with words of wisdom as Illini West Principal Brad Gooding looks on. -photo by Joanna Sholl for The Quill
---