The Hancock-Henderson Quill, Inc.
---
Stronghurst Board Seats Three Trustees
Village Park Hours To Increase For Summer
by: Shirley Linder, Quill Editor
Mayor Gary Root told the Village of Stronghurst board on Monday, May 4th that he would like to have the park hours changed to 6 a.m. to 10 or 10:30 p.m. instead of 6 a.m. to 9 p.m.
Arbry Vancil recommended it would be better to close the park at 10 p.m. so the youth would have an hour to get home before the 11 o'clock curfew. Attorney Bill Rasmussen will change the ordinance to read 6 a.m. to 10 p.m. April 1 to October 1 and 6 a.m. to 9 p.m. the other months.
Sharon Hicks, told the board she and husband, Mike, were changing over to McDonough County Internet and telephone. When she starting checking into it she had asked if she could have television, since they also offer that, and the company's reply was, "we don't have contract with them". Ronnie Gittings responded that he had talked to them also and had invited a representative to attend a board meeting but so far nothing has happened. He will try to contact them again about coming to a board meeting.
Richard Knutstrom approached the board asking what was being done about cleaning up properties in Stronghurst. He was told the procedure the board follows is: A verbal notice is given; 10 days later a written notice; 10 days later another written notice; then if there has been no response they can be given an ordinance citation. It is a 30 day process.
According to Mayor Gary Root he is intending to reinstate a committee to check on unkempt properties and will begin the procedure of trying to get some places cleaned up. Due to some legal ramifications the committee was disband a few years ago.
The police report for April consisted of: 112 hours worked; 980 miles on squad car; 6 traffic stops; 4 verbal warnings; 1 written warning; 5 uniform traffic tickets; 1 notice to appear; 5 service calls; 3 arrest; 20 business courtesy checks.
Ronnie Gittings said, "The flow meter we got the bids on, it finally died on us so I took the low bidder. He's the guy that's been working with the village for years and years. He was the low bidder by $600. I told him to go ahead and get it ordered, a couple of weeks delay on that. So that will come in and we will put that in."
Gittings said they have received bids on replacing the iron filter but, have been told they have to test for radium in the medium before they can do anything. The test takes 6-8 weeks, costs $2770 and is good for one year. The radium is in well 5. The cost for exchanging the medium is $17,302. The trustees agreed to have the test done so they can proceed.
Gittings also reported there needs to be some mulch put in the village park. The cost will run $200 for one dump truck load and they need two truckloads. Trustees voted to do it.
Amanda Kane, Jim Spiker, and Brendan Schaley were sworn by Clerk Lou Ann Nortrup.
Nortrup reported West Central FS had obtained an application for a liquor license but had not returned it yet.
A discussion was held with the attorney regarding writing an ordinance for no liquor in the village park. The attorney will have the ordinance next month.
The board adjourned at 8 p.m. to interview applicants for new employees. The board had held a special closed meeting on April 29th to go through applications and narrow them down for interviews. Attending the special meeting were: trustees, Deb Hale, David Vancil, Brendan Schaley, and Betty Waterman; Mayor Gary Root; employees Ronnie Gittings and Lou Ann Nortrup. Also invited to the meeting were guests, Amanda Kane and Jim Spiker.
Mayor Root reminded trustees that what is said in a closed meeting session is kept confidential and not to be talked about. He had heard following the last special meeting some of the information had been leaked to the public.
Those present at the regular meeting included: Mayor Gary Root; Trustees, Brendan Schaley, Mike Bohnenkamp, Betty Waterman, Tony Anderson, David Vancil, Amanda Kane, Jim Spiker, (Deb Hale, absent); Employees, Lou Ann Nortrup, Arbry Vancil, Ronnie Gittings, Attorney Bill Rasmussen; guests, Sharon Hicks, Richard Knutstrom, Bob Dillon, and Shirley Linder
There will be a special meeting held on Monday, May 18th, at 7:00.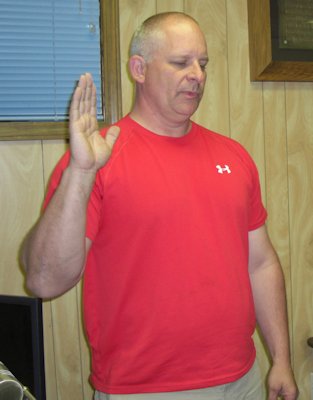 Brendan Schaley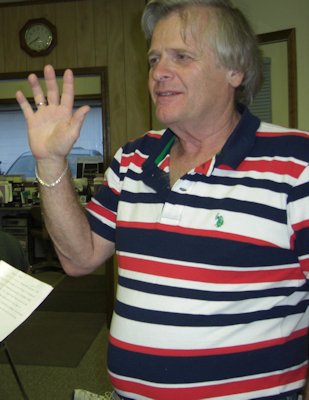 Jim Spiker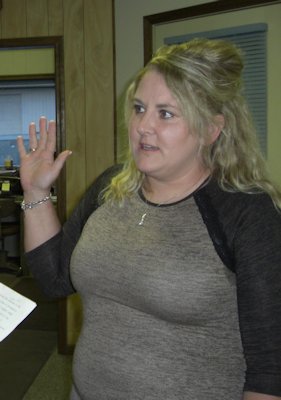 Amanda Kane
---