The Hancock-Henderson Quill, Inc.
---
Rozetta Baptist Hosts "Ladies Night Out"
By: Dessa Rodeffer, Quill Owner/Publisher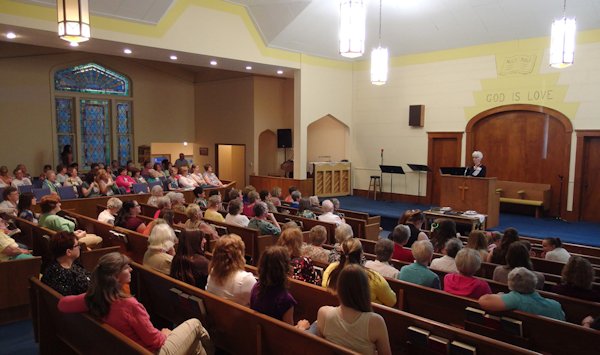 Rozetta Baptist Church -Last Wednesday evening, the ladies of the community enjoyed an evening of good food, conversation, and a program of love, joy and hope, even in the deepest loss, told from experiences of Naomi Lightfoot, who went through two floods in Henderson County.
The annual "Ladies Night Out" at the church always gathers many from outside the church as ladies invite friends they know to the fun and inspirational evening.
Everyone gathered in the sanctuary until the appropriate time of the dinner call. Ladies were anxious to see the basement that was decorated like a spring garden patio, thanks to the collection and clever decorating style of Johanna (Adair) Defenbaugh.
As ladies stepped into the basement garden, Johanna pinned a brightly left hand garden glove onto their lapel with name tags on it. Unique garden decorations were on each table and patio lighting hung from the ceiling. Favors of flower pots were wrapped in clear cellophane and tied with a bow. You might think it had dirt and some seeds but upon unwrapping, a delicious chocolate truffle was there to end your meal and satisfy your sweet tooth.
A clever game to help as a mixer asked us to find a lady in the room who still mows her yard with a push mower, or is allergic to flowers, or who made fresh asparagus soup this week, and so forth.
As the men filled the ladies glasses with ice tea, water or lemonade, tables began to travel through the buffet line of delicious foods.
In the sanctuary, Naomi Lightfoot, now of Burlington, Iowa, showed slides as she told her story of a beautiful family who was raised in the church and sang gospel music as a family, and then the tragedy of losing her father in his 50s.
When she and her husband married in March of 1965, his grandfather wanted him to keep farming, so they lived in the farmhouse, rural Gladstone. It was only three months later and the flood of 1965 hit their home and they had to move with his family in Burlington, IA.
After the ups and downs with the flood, they finally were able to build a nice but modest home near the Lock & Dam back at the farm. They loved it. Had planted flowers, had a dog, and her husband worked at J.I. Case and farmed. They had a son and a daughter.
They enjoyed many good times together until tragedy struck again. Their son died of a brain tumor in 1997 at age 27, with so much talent, and so much hope for a bright future. He had gotten his pilot's license. He never complained through his illness and always thought of others, Naomi said.
It was extremely hard to lose Troy. He really effected his Dad and his friends.
Then in 1993, the flood took their beautiful home again. Daughter Tasha was in Southeastern College traveling back and forth and we had to evacuate the last week. We had been in denial that this could happen again, Naomi said. When one of the workers from the Lock & Dam was carrying out things from there they asked him if they thought it would flood, and he said, "It's coming down and you better be ready. It's going to be BIG!"
While flood waters were high, someone in Burlington had a cabin almost directly across the river from their place and said it was for them to stay in, free.
Naomi and her husband were there two months, traveling to FEMA meetings and trying to find out what they must do. Then she went to wake him up and he didn't wake up. Naomi had lost her father, lost her son, and now she had lost her dear husband, and she had no home. FEMA ended up condemning her home and she was living with her daughter and her wonderful son-in-law. She traveled over to the home site after they had burned the remains of her home and she happened to see a patch of violets. She went over and seen something underneath them and it was a Bible. Showing it to her daughter, they recognized it as the one they had given her from the Holy Land, made of Olive Wood. It was all in tack.
Naomi said it was a sign to me that my Lord is here. And that is word is forever.
You can lose everything, but you can't lose the love, hope and assurance that God gives each of us.
Naomi read from Isaiah 26:3-4. You keep him in perfect peace whose mind is stayed on you, because he trusts in you. Trust in the LORD forever, for the LORD GOD is an everlasting.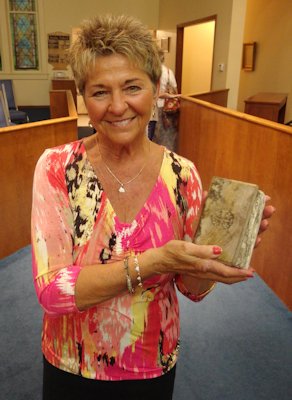 Naomi Lightfoot of Burlington, Iowa, holds a Bible she says was a gift from God, in her time of need.
---