The Hancock-Henderson Quill, Inc.
---
Meet Your Neighbor
by Christy Kienast, The Quill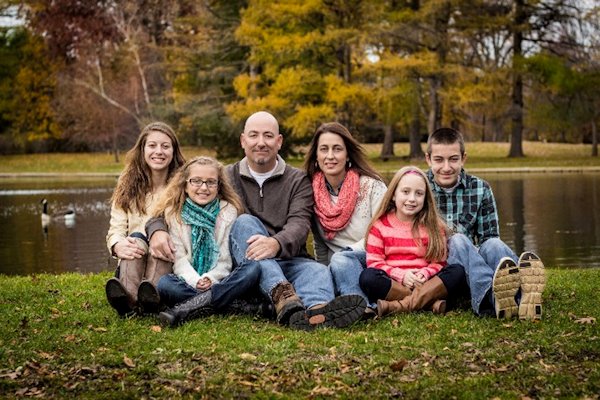 Meet your Neighbors the Hartrick Family- Dean, Deanna, Zoey, Cale, Marah, and Emma Hartrick of Dallas City.
Dean Hartrick is the son of Jim Hartrick of Hamilton and Sina Hartrick of West Palm Beach Florida. Dean has one sister Michelle who also lives in West Palm Beach Florida with her husband, Mike and their two children Jack (8) and Makenzie (7).
Dean graduated Keokuk High School. He attended Southeastern Community College where he played basketball for the Blackhawks. Dean is also an avid golfer and competed at the State level in High School.
Dean has worked for Mid Am Building Supply in Mt. Pleasant, Iowa for the past 16 years. He is a Territory Sales Manager.
Deanna is the daughter of Randy and Ellen May of Lomax. She has one brother, Michael who lives in Danville, Iowa.
Mike has two sons Dylan (19) and Kolby (12). Mike works for GE in Burlington, Iowa.
Deanna graduated from Dallas City High School. After high school Deanna graduated from Iowa Wesleyan College in Mt. Pleasant, Iowa with a degree in Elementary and Early Childhood Education.
Dean and Deanna were married on November 20, 1993 in Keokuk, Iowa.
Shortly after getting married, they moved to Kansas City where they lived for 8 years. During that time Dean worked for Sutherland Lumber and Deanna taught 3rd Grade for the Olathe School District in Olathe, Kansas.
After leaving Sutherland Lumber, Dean went to work for Mid Am Building Supply in Spring Hill, KS and in 2001 was transferred to the Mt. Pleasant, Iowa location.
Upon returning back to this area, Deanna began teaching at Dallas City Elementary School where she has taught K-1, 2-3 and 2nd grade for the last 13 years. This past summer Deanna received her Master s Degree from American College of Education in Educational Leadership and is currently pursuing a position in Administration.
The Hartrick's have three daughters. Zoey was born on April 5, 1997 in Shawnee, Kansas and is a senior at Illini West. She is an Illinois State Scholar, President of the National Honor Society, Student Council Secretary, and involved in the Git-R-Done club.
During high school Zoey has participated in volleyball, basketball, and track. Zoey will be attending Culver Stockton College in the fall majoring in Forensic Accounting. She will also being playing volleyball for the Wildcats.
Marah was born on April 7, 2003 in Burlington, Iowa. She is a 6th grader at Dallas City Elementary. and participates in basketball, volleyball, scholastic bowl, and track. She also plays for the Midwest Magic ASA Softball team.
Emma was born on February 24, 2006 in Burlington, Iowa. She is a 3rd grader at Dallas City Elementary and participates in Girl Scouts. Emma likes to play sports, takes dance lessons, and collect American Girl dolls.
The Hartrick's have one son, Cale, born on December 22, 1998 in Shawnee, Kansas. He is a sophomore at Illini West High School.
Cale is a member of the Illini West Basketball team. This past December Cale was diagnosed with stomach cancer.
He is currently receiving chemotherapy at the University of Iowa Hospital and Clinics and bravely fighting this disease.
The Hartrick's appreciate everyone for their thoughts and prayers over the last few months as they continue on this journey to lead Cale to a complete recovery.
---
---