The Hancock-Henderson Quill, Inc.
---
Fair Queen Pageant Is Saturday
Fair Queen Pageant Is Saturday
The Henderson County Fair Pageant will be held on Saturday, July 11, 2015 at 6 p.m. at the Henderson County Fairgrounds in Stronghurst.
This year's theme will be "Salute the Troops" in honor of our 2014 Queen, Shawnee Hartman. Shawnee has enlisted in the Illinois National Guard and will be leaving for Boot Camp in September.
Shawnee, daughter of Larry and Dawn Hartman of Oquawka, is a 2015 graduate of West Central High School and plans to attend Western Illinois University after completing her training for the Guard.
She has spent the last year representing the Henderson County Fair throughout the State of Illinois and competed in the Miss Illinois County Fair Pageant last January. She has been a remarkable Queen and is a very talented musician.
Joining Shawnee will be her Queen sisters, Lauren Kane and Grace Cargill.
Lauren is the reigning 2014 Jr. Miss Henderson County Fair and is the daughter of Joe and Cindy Kane of Little York. Lauren has done a fantastic job representing the Henderson County Fair and we will miss her smiling face and her endless energy.
Lauren states that her most favorite memories from this year include; riding in the parades, going to the State Fair with her Queen Sisters, handing out ribbons at the fair, meeting other county fair queens and trying to find the funniest faces when taking pictures with her queen sisters.
Grace Cargill, the 2014 Little Miss Henderson County Fair, is the daughter of Chad and Jayme Cargill of Stronghurst. Grace has done a wonderful job as Little Miss and always has an infectious smile and a bubbly laugh.
Her favorite memories from the past year include; milking the cow at the state fair, throwing candy at parades and getting new dresses to wear for public appearances.
There are 18 young women competing for the 3 titles this year. Please come out to the pageant and cheer them on.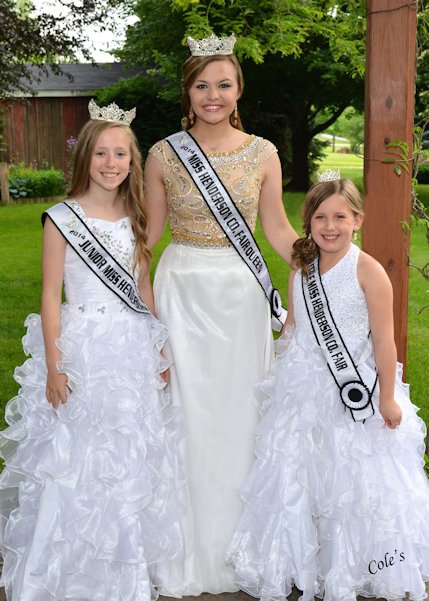 From left retiring 2014 Henderson County Fair Jr. Miss Lauren Kane, Queen Shawnee Hartman, and Little Miss Grace Cargill.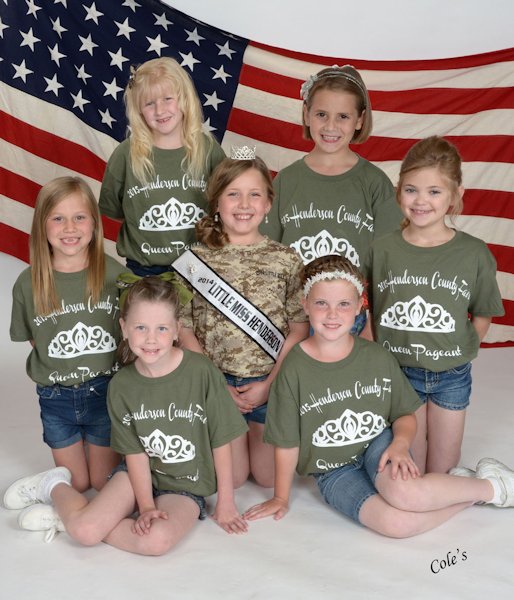 Contestants for Little Miss- Rose Leary, Jamie Miller, Alexia Kane, Lauren Winters, Ruby Gittings and Alison Guyton.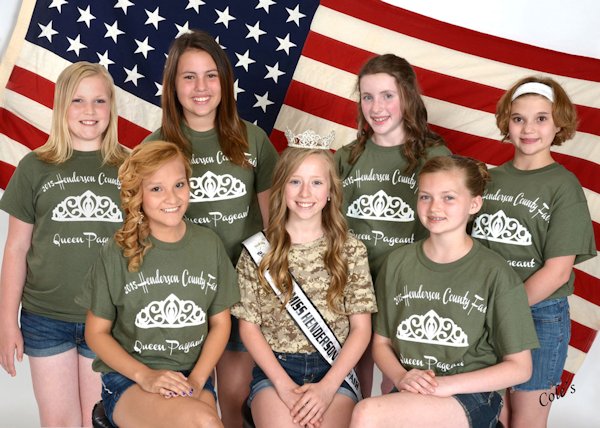 Contestants for Jr. Miss-Dianna Reyes, Reagan Spence, Kendra Cole, Kaylynn Hennenfent, Payton Watson, Bridget Brokaw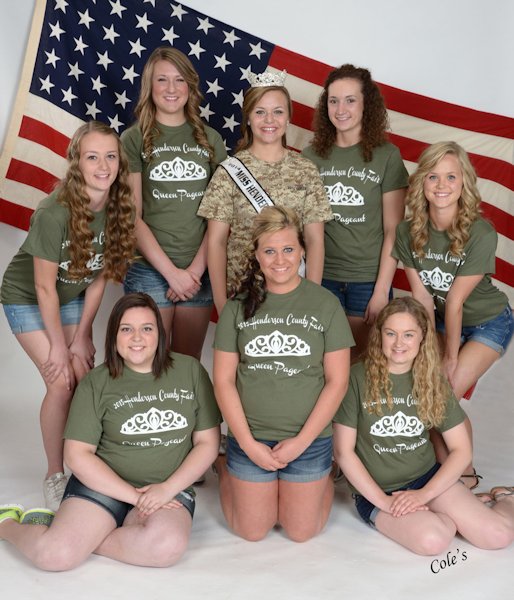 Queen Contestants- Kilene Haynes, Ashleigh Brown, Maddy Cooper, Megan Magee, Cassie Campbell, Grace Brent
---