The Hancock-Henderson Quill, Inc.
---
West Central's Grimm Honored As Superintendent of Distinction
West Central Superintendent Ralph Grimm was honored as a regional Superintendent of Distinction at an awards luncheon Tuesday (April 21) at the governor's Executive Mansion in Springfield. Grimm was selected by his peers in the Illinois Association of School Administrators (IASA) Western Region.
I am honored and humbled by the recognition of my peers in their nominating me for this recognition. I have tried to lead by example and help those who might need help at times as other veteran superintendents did for me throughout my career. But as I have tried to help others, I have learned much from my peers. This recognition is in part, a reflection of the help that I have received from others, said Grimm, who has been an educator for 31 years, the last 10 as superintendent of West Central Community Unit School District 235 in Biggsville. He recently was named superintendent of Galesburg District 205, where he will take over July 1.
Grimm was one of 20 school superintendents from around the state to be recognized as a Superintendent of Distinction. Governor Bruce Rauner and IASA Executive Director Brent Clark were among those taking part in the awards ceremony.
Public education is facing some of its most difficult times, and that is when leadership is most important. These Superintendents of Distinction were selected by their peers in their regions because of the dedication, commitment and leadership that they have demonstrated, and we are pleased to recognize them for what they do to fulfill the promise of public education for children all over the state, Clark said.
Grimm attained his Bachelor's Degree in Education and his Master s degree in Education Administration from Illinois State University and his Certificate of Advanced Study from Western Illinois University. He was a teacher, coach, athletic director, dean of students and principal before becoming superintendent at Carthage in 1993 and Canton in 1999 before becoming superintendent of the West Central district in 2005.
Grimm has helped guide the West Central district to several accomplishments, including:
" Working with a student-led group, 34 VOICES, to secure a bypass for Route 34 around the north campus, significantly improving the safety of the students;
" Implementing a fiber network for the entire district, allowing for unlimited Internet bandwidth. This bandwidth has allowed staff to expand their teaching techniques to include all of the resources available to them on the Internet;
" Completing the district's 1:1 initiative three years ahead of schedule. All students in grades 3-8 and 9-10 have a Chromebook to use each day in their classes, and the teaching methods being used throughout the district changed to incorporate the technology;
" Being able to build substantial cash reserves during times of financial difficulty. West Central will end this year with approximately $6 million dollars in the bank;
" Being able to recruit, train, mentor and retain an outstanding teaching staff; and
" Successful completion of the installation of a water line to the district's north campus that has improved the quality of water as well as providing enough water capacity to fight a fire on the north campus should the need ever arise.
Grimm and his wife, Susan, have three sons, Kevin, Daniel and Jared.
The awards and luncheon were sponsored by Horace Mann, one of the nation's largest insurers focusing on educators' needs, and Herff Jones, one of the largest suppliers of class rings, yearbooks and graduation caps, gowns and announcements.
Superintendents face many challenges. From balancing budgets to keeping schools and students safe, they work to put the needs of students first and consistently work to find, nurture and support quality teachers, said Marita Zuraitis, Horace Mann President and Chief Executive Officer. Their efforts make their schools outstanding learning environments, and that excellence is what the IASA is celebrating. Horace Mann is proud to recognize and applaud the IASA Superintendents of Distinction.
Herff Jones celebrates the educational leaders who are being recognized today for promoting and encouraging excellence in their schools, said Sales Representative Elizabeth Elsner.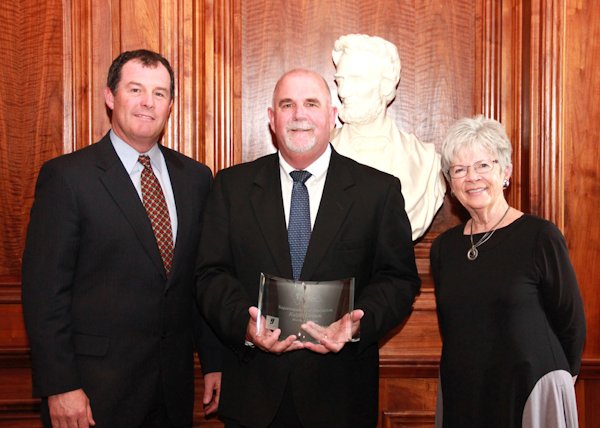 Pictured from left are IASA Executive Director Dr. Brent Clark, Superintendent Ralph Grimm of Biggsville, and State Board member Melinda LaBarre.
---