The Hancock-Henderson Quill, Inc.
---
Oquawka's Best Kept Secret
Ball Park Dedication Surprises Charlie Ruberg
Oquawka- Over 80 people were in attendance to surprise and honor 86-year-old Charlie Ruberg with their appreciation for his dedication to Oquawka baseball.
The Oquawka Ball Park was dedicated on Sunday, April 19, 2015 and named in honor of 2 men most important to Oquawka baseball.
"Charlie's Field" was named for Charlie Ricketts who donated the property and Charlie Ruberg who dedicated 40 years including being the first baseball commissioner.
Charlie Ruberg was involved in building the ball field when he was a young boy. He then played ball there himself, as a pitcher.
Actually, he even pitched on his wedding night-- as their extra pitcher did not make it and the men came begging him to pitch. He told them, "You'll have to ask Bette. It's up to her." She said, "Might as well. We are going to live at the ballfield, anyway!"
He then went into the U.S. Air Force, but when he came home on leave for 4 weeks every summer, his time was spent umpiring and helping out with the ball teams.
In 1970, Ruberg retired from the Air Force and started coaching the men's fast pitch team which he continued doing for 20 years.
His coaching also included his son's pony league team, the girls soft ball team, which one year were undefeated, and his granddaughters YMCA team.
His daughter Linda said "I always remember if I couldn't find my dad, my mom would say did you check the ball park?"
He would sit for hours on an upside down 5 gallon bucket cutting the sandburs, goat heads and cactus out of both diamond's outfields. He maintained the working of the ball field lights, drug and lined the diamonds before games, raked and raked after rains just so they could play ball.
He kept the concession stand, the bleachers and dug outs (at that time were wood) painted every year.
He made sure all the equipment, trash and lights were off after every game whether his team played or not. He maintained a ball field schedule for 10 teams at a time. He had the men's team, girls softball team, 3 midgets, 3 peewee's and 2 little league teams for several years. He knew the rule book inside and out, and never hesitated to argue on a bad call.
He hosted and managed several tournaments that were held in Oquawka. Kids and adults a like would come and ask Charlie for his help or advise and he was always more than willing to help out.
Charlie was appointed the first base ball commissioner which he accepted with pride. He maintained that hunk of dirt that we call a ball field for a total of 40 years, and did it all out of love. People would always say " they should name the ball park after you" he always said no.
Well the men's softball team got permission from the board and between them and a few anonymous donors collected money and purchased a sign that says " Charlie's Field" for Charlie Ricketts who donated the land and Charlie Ruberg who took care of that land from 1970 to 2010.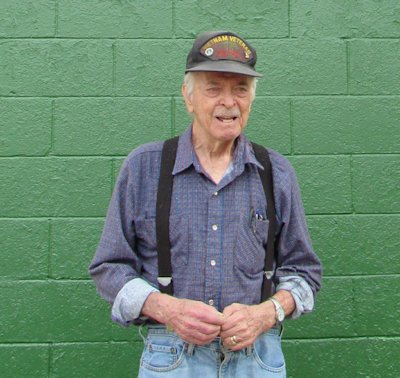 Charlie Ruberg-Oquawka
---