The Hancock-Henderson Quill, Inc.
---
Berletts Open New Bodyshop With Open House Saturday
by Christy Kienast, The Quill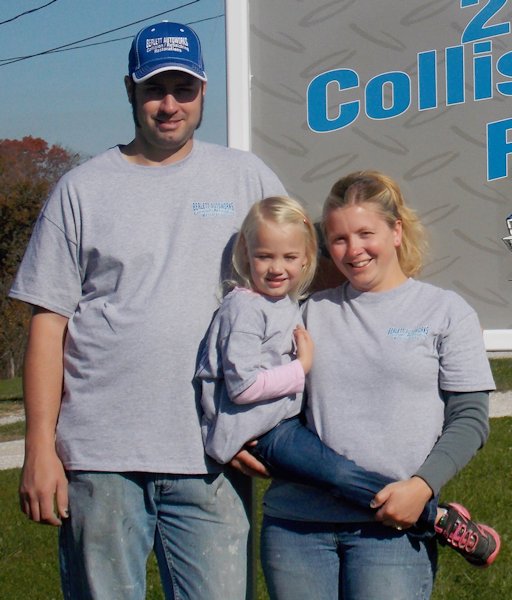 Since he was 13 years old, Seth Berlett has been doing body work on cars. In fact, he still has the first car he ever worked on.
From a young age, Seth said he has known that he wanted to own his own shop. So, Saturday, November 1st, it is with much joy that Seth and his wife April hold their "grand opening" this weekend as they showcase their new business Berlett Autoworks.
Their dreams have finally come true.
Seth graduated from La Harpe High School in 2003 and graduated from Wyoming Technical Institute in 2007. There he learned collision/refinishing and chassis fabrications and high performance engines. He is an ASE Master Certified Collision Refinishing Technician and he has a certification in Martin Senour painting.
Seth previously worked for the last 12 years for Shottenkirk GM Giant in Fort Madison, Iowa.
April graduated from Southeastern Community College with a degree in Accounting and will be doing the estimates and bookwork for the business.
In July, the couple purchased the building at 315 North State Highway and have been busy with remodeling and updating the facility. They have installed a semi downdraft paint booth and will be carrying a full line of Martin Senour/Napa Paint. They will be doing insurance work, body work and restoration of older vehicles.
Seth and April wouldn't be ready for the open house if it weren't for all of the wonderful help they have received, they said. And they are happy that their five-year-old daughter Alexa will also be assisting them in the running of their business.
Mark your calendar on Saturday for 4:00 p.m. and stop in at their open house on Saturday, (November 1st) from 4 to 8 pm and wish them well in their new service to La Harpe and area.
---