The Hancock-Henderson Quill, Inc.
---
Take "The Quill" Along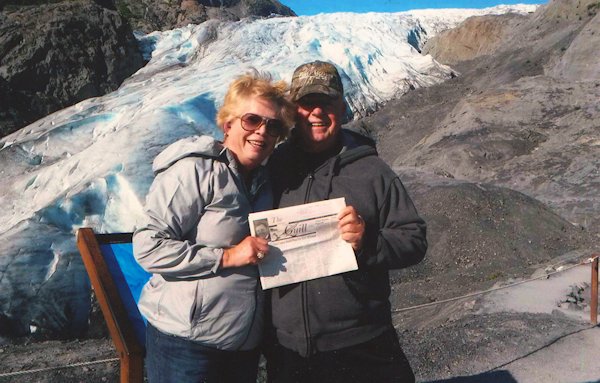 "The Quill" Traveled To Alaska in August with Terry and Carolyn Avery of Gladstone, our last frontier. They are standing in the Kenai Fjords National Park with the Exit Glacier behind them. They write, "They claim it melts about 2" a year. The air is so fresh with no pollution." They enjoyed many wildlife viewings including 2 brown bear, 6 grizzlies, 3 seals, 3 river otters, 3 Buluga whales, 1 reindeer, 1 caribou and moose just grazing along the roadside. They also enjoyed fishing and caught a boatload of salmon and halibut.
When you go on a trip, take "The Quill" along and have your picture taken with it and then send it to us. Let's see where all "The Quill" can travel!
---