The Hancock-Henderson Quill, Inc.
---
National Fire Prevention Week Begins Today
by Firefighter Hal Jern
In October National Fire Prevention Week is marked to observe the Great Chicago Fire that started on October 8, 1971. At the time of the Chicago Fire the midwest was extremely hot, no rain, water levels very low, homes, and sidewalks made of wood were a leading cause of dangerous fires in the United States.
The Chicago fire killed 300 people and made 100,000 homeless. It destroyed 4 square miles, 18,000 buildings, business district, and 200 million dollars in damages.
Fire departments in America teach the public fire prevention safety by having open houses, going to schools, businesses and demonstrations. Over the years the program has saved 1000's of citizens.
In 1974 the Oquawka volunteer fire department started a fire prevention program in Oquawka at the grade school (18 years), when Tri-Valley Middle School formed, the program went to (Gladstone) and finally for 22 years at Union (West Central-Biggsville) rural school.
Oquawka has been assisted by the Gladstone-Biggsville, and Media-Stronghurst Fire Departments.
At the Oquawka Pre-school on October 7th, Tuesday at 9:30 a.m. there is a student program and at 5:00 p.m. an adult program.
On October 10th, Friday at 10:00 a.m. a fire prevention program will be put on at West Central Elementary marking a 40-year program which has put 1000's of students through Fire Prevention Safety. We are very proud of our fire prevention program. I appreciated all the firefighters, who made the program possible.
The 2014 Fire Prevention theme is, "Working Smoke Alarms Save Lives-Test Yours Monthly"! Practice fire safety all year.
For information call Hal Jern, Secretary at 309-507-2324.
History of Oquawka Volunteer Fire Department
The Village of Oquawka was platted in 1836 (Henderson County, IL (Seat Est. 1841), In 1890, March 10th, the village formed their first fire department with a bucket brigade .
In December 1899, the first fire apparatus, a manually pull and hand operated Howe tub pumper was put in service.
Oquawka's first fire house, an old wood building, was on Warren Street between 3rd and 4th. It was also housed by a horse drawn road grader.
Fire alarms were church bells for 5 minutes solid to alert citizens of a fire.
In the 1920's a boat whistle replaced the bells.
In 1949 and 1999 a new fire siren was placed into service.
In 1927, the village purchased, with a trade in, a (1899) pumper, a 1923 Model "T" Ford front pumper. The fire truck had a 250 gallon per minute pump and could pump off a hydrant or draft pump out of the river, creek, pond or well. One person could do all this by themself and drive 10 minutes or less to any fire in town. A huge improvement in fire fighting on scene; it was a 40 gallon water tank, and could put 8 gallons of water per minute on a fire. It also could be mobile fighting a grass or bush fire.
It was replaced in 1949 with a new fully equipped Chevy 500 gallon pumper and tank cab enclosed with lighter hood siren.
Harry (Hadd) Noble was the village marshall and maintenance foreman. The old pumper was a patrol truck and maintenance unit. The city got its money's worth from the 1923 pumper. It is a parade unit and we have the fire engine still housed at the fire department. Larry Bundy is engineer and Donna his wife assists him. It runs like a top. We appreciate Larry's dedication and hard work we appreciate him. The fire engine has a lot of history; couples have gotten married on it.
In 1960 the department the department got a "46" International 1000 tanker. In 1964 a "62" 1000 (formed Oquawka Rural Fire Association) rented rural fire protection not a district, 100% owned by the Village of Oquawka. In 1973 a 1972 Alexis 750 (500 gallon) pumper replaced the 1949 unit. In 1991 Chevy 500 (1,800 gallon) pumper tanker replaced the "62" unit. In 1993 we received a rescue pumper 1000/500 gallon with a 5 man cab (Jaws of Life rescue unit) donated by Swarthmoore, PA at the time of the flood.
Oquawka's second fire department with the second bay was in a story brick building built in 1900 with the Village Hall and the Police Station.
The fire department moved out in June 29, 1967 into a new 2 bay fire department. It is a Parkersburg building 40 x 60, with a kitchen meeting room. $5000 was donated by the firemen with a total cost in 1967 of $13,500.00 It is located at 4th and Warren Streets. Fire Chief, Dean Thompson and Jesse Pullen worked for a new fire department and a modern fire truck along with members of the fire department and the ladies auxiliary. We appreciate all their efforts.
An annual carnival, fish-chicken fry and Bingo, Firemen's Ball, has bee well supported by the Oquawka community.
Today firefighters sell BBQ, and center cut pork chops at the citywide (April or May) yard sale and Oquawka Heritage Trail in September. Firefighter Scott Ray brought the idea up. Biggsville had did this for years with their fire department and Lions Club with big success.
The fire chief is Rick Pullen, along with Hal Jern and members of the department had it as an annual event supported by all.
Firefighter, Larry Shamblin, has cooked more pork chops than any other member on the fire department! (Fire trucks
In 2000 we received a 2000 Freightliner 5 man cab rescue pumper, 1,250 gpm (1200 tank a mobile fire department on wheels replacing "70" Hahn engine. In 2005, we received 2003 brush truck 250 gpm (300 tank F.W.D. quick attack mini pumper. In 2008 an Alexis a front mount pumper 1,250 gpm. (750 tank in 2009, 1993 Ford Squat) truck support command unit. Oquawka has new fire trucks to handle any calls in 1999 and a new 15 hp fire and tornado siren was purchased. The siren is controlled at the Henderson County (911) sheriff's department. Stones high and low for fire and solid 5 minutes tone for tornadoes.
In 1998, fire chief Pullen and Mayor Steve Lumbeck had a 3 bay extension put on the building with all 5 electrical door openers as we needed the room. The department appreciates them doing that. In 1999, the meeting room was remodeled.
The Oquawka ambulance is housed on the far east side bay of the fire department. The firefighters, and EMS hold their meetings there. It is also the Oquawka township north voting station.
Fire Chiefs have been Haddy (Hadd) Noble, Bill Hamilton, Emil Jern, Dean Thompson, Kenny Jern, Rick Pullen, Hal Jern, and Troy Jern.
The Oquawka fire truck numbers are 50 to 57 and 501 to 506. The fire command is 507-530 firefighters (fire prevention) is October 5th, Sunday to October 11th Saturday.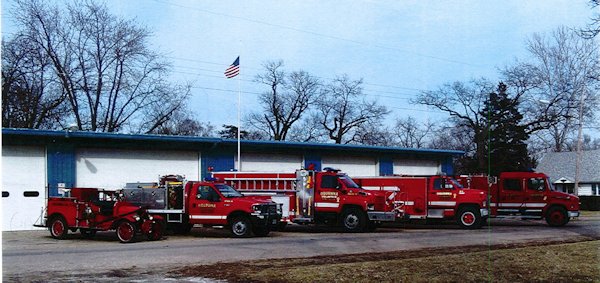 A little of what it takes to insure fire safety is well equipped fire trucks. Above is one historic and newer trucks from the Oquawka Fire Department's Fire Fleet. From left: 1923 Fire Engine, 2003 Brush Truck, 2007 Fire Engine, 1991 Tanker Tender, and 2000 Rescue Fire Engine. Not pictured: 1972 Engine, 1993 Squad Truck.
---