The Hancock-Henderson Quill, Inc.
---
Rita Ferguson Takes Retirement, Ending The 126 Year Legacy of Postmasters Serving In Stronghurst
By: Shirley Linder, Quill Editor
One hundred twenty six years ago, Dr. Isaac F. Harter was sworn in on March 2, 1888 as the first postmaster of the Stronghurst Post Office.
Yesterday, Tuesday, September 30, 2014 Rita J. Ferguson retired as the last postmaster that will ever serve the Stronghurst Post Office.
Rita began her postal career as a clerk in June, 1978, under postmaster Ernest E. Leinbach, who served as postmaster from 1971-1984.
Following Mr. Leinbach's retirement Rita was hired as postmaster on November 24, 1984, chosen from postal employees through a competitive bid process. She said, "There has never been a day that I didn't want to come to work."
From 1775 until the early 1800s, postmasters in the United States were appointed by the Postmaster General. In 1836, however, an Act of Congress provided that at all post offices where the annual compensation of the postmaster exceeded one thousand dollars, the postmaster would be appointed by the President, "by and with the advice and consent of the Senate."
The positions of postmaster (and later, rural carrier) remained essentially political, until February 5, 1969, when President Richard Nixon and Postmaster General Winton M. Blount jointly announced an end to political appointments in the Post Office Department. Future appointments, the President declared, would be made "on a merit basis without the usual political clearance."
It was not, however, until August 1970, with the signing of the Postal Reorganization Act, that patronage in the Post Office was legally ended by a bill that explicitly prohibited "political recommendations" in the personnel affairs of the Post Office. On November 28, 1970, the first group of postmasters was appointed on merit alone under the Postal Reorganization Act. This made William C. (Dusty) Regan the last Stronghurst Postmaster to be appointed by the president.
Former postmasters of the Stronghurst Post Office include: Isaac F. Harter (3/2/1888); Ira Putney (5/28/1889); Martin E. Kirby (12/22/1892); William J. McElhinney (2/16/1894); Ira Putney (5/5/1897); John F. Mains (6/4/1900); C. E. Fort (3/23/1916); John F. Mains (12/6/1918); Mary H. Morgan, Acting Postmaster (8/30/1930); Joseph C. Painter (2/14/1931); Joseph Dixson, Acting Postmaster (2/9/1935); Joseph Dixson (8/13/1935); Edward R. Scharf , Acting Postmaster (1/31/1955); William C. Regan (6/5/1956); Ernest E. Leinbach 4/17/1971); Linda S. Shannon, Officer-In-Charge (9/1/1984; Rita J. Ferguson (11/24/1984).
Rita, the daughter of Hugh and Ida Mae Roe, said she grew up serving people as her parents owned a dry goods store in Stronghurst and her career in the post office continued that serving which she enjoyed.
Rita worked in Monmouth for a year and also in Peoria where she worked on a detail assignment of bulk mail, but she said she still wanted to come back to Stronghurst, where she felt it was the best job ever.
During her career as postmaster Rita has won several awards including:
1986-Direct Market Association Postmaster of the Year at the NAPUS Convention
Postmaster of the Year of the Illinois Branch of National League of Postmasters
Competed at the National Convention
Received the Benjamin Award in 1995 at the National League of Postmasters in Puerto Rico. From this she was selected to serve on the corporate advising board at postal headquarters in Washington D.C. along with others from all across the United States.
Rita also served as Secretary, Editor, Vice President and President for the Illinois Branch of National League of Postmasters.
Under the newly restructured postal system Barry DeJaynes Postmaster at Roseville will serve as Administrative Postmaster of Roseville, Stronghurst, Media, Smithshire, and Raritan.
All other employees will remain in their positions at the Stronghurst Post Office.
Rita said one aspect of her job she enjoyed was being able to hire local people and give them an opportunity to work for the postal department.
When asked the biggest change she had seen over the years, Rita replied, "Automation. When I started we sorted every piece by hand, now it is all read by machines and placed in address sequence which is also a cost savings."
While Rita will be missed on everyone's daily trip to the post office she will now have more time to enjoy and spend with her husband, Alan, Foreman for the Henderson County Highway Department; children, Brad and Stacie Leinbach of Lomax and Bryan and Anne Leinbach of Elgin; grandchildren, Bailie, Rylie, Chase, and Luke, as well as sister, Nancy Hansen of Macomb.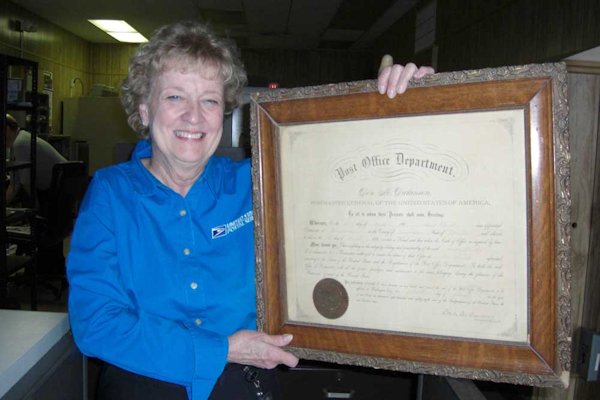 Rita Ferguson, last postmaster to serve Stronghurst, holds the certificate of Isaac F. Harter, the first postmaster to serve Stronghurst.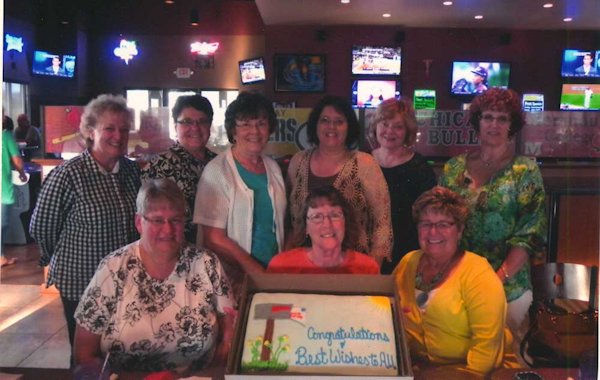 As of today, Blandinsville Postmaster Cindy Link of Media, (back center) is the only active Postmaster remaining in this photo taken a couple of days ago. The retired area Postmasters from front left is: Judy Carlson (Gladstone), Linda Shannon (Alexis), Bev Wassenhove (Viola). Back left: Rita Ferguson (Stronghurst), Annette Manthei (Kirkwood), Carolyn Trout (La Harpe), Cindy Link (Blandinsville-active Postmaster), Linda Peasley Clifton (Raritan), and Lori McKeown (North Henderson).
---