The Hancock-Henderson Quill, Inc.
---
Meet Your Neighbor
by Christy Kienast, The Quill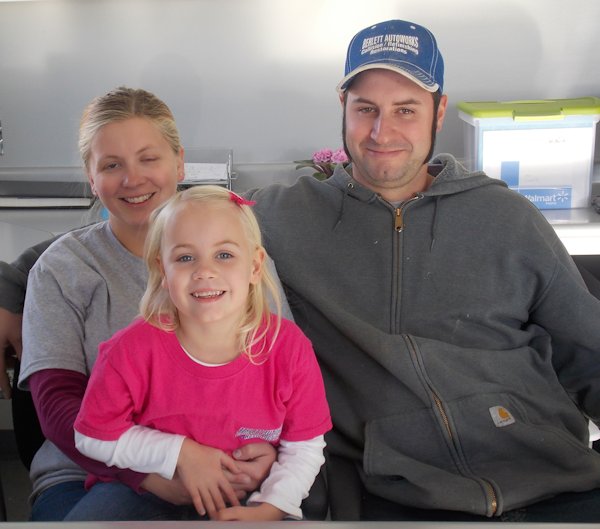 Meet your neighbor s Seth and April Berlett of La Harpe.
Seth was born May 31, 1983 in Macomb and raised in La Harpe, the son of Duane Berlett of La Harpe and Ronda Berlett of La Harpe. Duane farms and does excavating. Ronda is an OB nurse and a certified medical assistant.
She was born January 22, 1985 in Macomb and lived outside of the Terre Haute/ La Harpe area. April is the daughter of Dan and Melinda Horton. Dan farms and owns Terre Haute Excavating and Melinda works for the United States Postal service as a route driver.
Seth graduated from La Harpe high school in 2001 and Wyoming Technical Institute in 2002 in collision/refinishing and chassis fabrication and high performance engines. April graduated from La Harpe high school in 2003 and from Southeastern Community College in 2005 with an Associate s Degree in Accounting.
April and Seth just opened their own family business in La Harpe, Berlett Autoworks. Before that Seth worked at Shottenkirk in Fort Madison, IA, in the body shop; April worked at Menards and the Carthage Vet Service and was a stay at home mom to the couple s five year old daughter, Alexa.
The couple married on July 3, 2003.
Seth is the grandson of the late John and Elaine Berlett and Naomi and the late Robert Veff, both of La Harpe.
He has one brother, Brent (Chrissie) Berlett of Fort Madison, IA. Brent is a precision machinist and Chrissie is a vet tech. the couple has one son, Stefan, 4.
April is the granddaughter of the late John and Kathryn Horton of Terre Haute and Veta and the late Delbert Harper of Good Hope. April has three sisters. Amanda (Lewis) Mohr of Lomax, they have three children, Isaac, Ethan and Audrey. Danielle (Jeremy) Knowles of Plymouth, they have a daughter Addilyn. And Jessica Horton goes to school.
April and Seth are members of the La Harpe Christian Church and April is the bookkeeper for the church. In her spare time, April enjoys cooking and baking with Alexa, and crocheting, which her grandmother taught her. In his spare time, Seth enjoys working on cars and going to car shows.
Faith and family mean everything to Seth, Alexa and April.
---