The Hancock-Henderson Quill, Inc.
---
Oquawka couple surprised by Citizens of the Year honor
by Sally Day, The Quill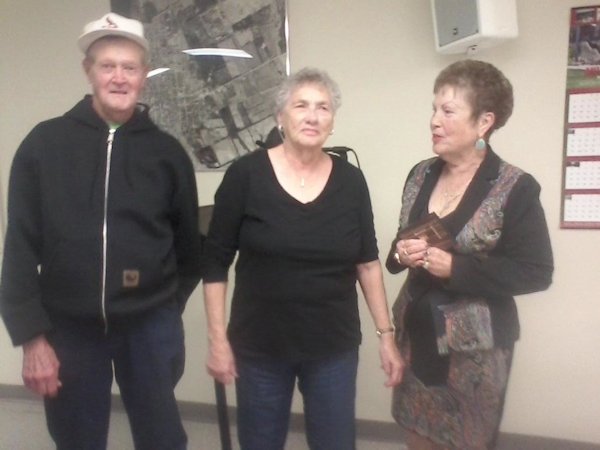 Oquawka-Rusty and Dixie Lox (left) were genuinely surprised when Village President (right) announced their names as recipients of the Oquawka "Citizen of the Year" Award, at the November 3, 2014 meeting of the Oquawka Village Board.
They were given the honor for the many years of volunteerism and community mindedness they had offered as citizens.
Village President, Sandra Moody, after making the announcement, gave the couple a plaque to mark the special recognition.
The couple was invited to attend the meeting on false pretenses, by their children, who told the parents that there was going to be some heated discussion at this month's meeting.
A brief Executive Session was held toward the end of the meeting, to discuss personnel.
When board members went back into regular session, they voted on hiring Todd Miller as a police officer.
He will be paid $14.50 an hour. They also voted to raise Police Officer Clifford Adams pay to $14.50 an hour.
Police Chief Keith DeJaynes listed the following in his report to the board:
Criminal Arrests-Domestic
Battery, 3;
Battery, 1;
Criminal Trespass, 1;
DUI, 1;
Agency Assists-County Assists, 4;
Ambulance Assists, 3;
Domestic-Domestic Calls, 6;
Civil Disturbances, 1;
Tavern Calls, 6;
Ordinances - Junk Ordinances, 2;
Golf Cart Inspections, 0;
Traffic - Speeding, 2;
Stop Sign, 1;
Improper Lane Usage, 1;
Suspended Drivers License, 1;
Operating Uninsured Vehicle, 1;
Other Calls, 53;
Warrants, 3;
Fuel - 147.3 gallons;
Mileage - 1,721; and
Fines - $401,36.
In other business, the board:
listened to Village Attorney Andy Doyle, who discussed the tax levy and the fact that the auditors recommend raising it by 4.9 percent.
The Finance committee will meet November 10 at 6:30 to discuss this issue.
learned from board member and Fire Chief Troy Jern that a Pancake Breakfast will be hosted by the Fire Department on Saturday, November 8 from 6 - 11 a.m.
*took no action on a petition to add two stop signs at the intersection of 6th and Pike Streets.
heard from Village President Sandra Moody, that anyone wishing to run for the board in the next election should pick up the papers at Village Hall now.
learned from Village Clerk Sandy Huff that the Street and Water Superintendent Jeff Peterson had made $303 for the village just by turning in scrap.
heard from board member Nancy Bundy, that an Open House will be held Thursday, November 6 from 4-6 p.m. to discuss improving certain areas in Oquawka and for the public to name some of the village's parks.
heard from resident Rusty Lox who asked if they were gaining any headway on the issue of the sidewalk near the Post Office.
heard the roll call as follows: John Fedler, present; Scott Ray, present; Jason Howard, present; Troy Jern, present; Robert Eldridge, present; and Nancy Bundy, present.
---