The Hancock-Henderson Quill, Inc.
---
Veterans
Dear PaPa I am very thank full that you where in USA AIR FORCE it is very spshel you did for Grammy and me and evry one els. Did you miss grammy. I love you very much. Day and night day and night doing all that hard work. Was it fun going to pais, when you and all you other VETERANS where that patch that means you are a very spshel person in the USA when you put that hat on that means you are a good person in the USA so all I want to say is...THANK YOU Thank you for risking your life For us Thank you for being...MY PAPA
I want to remember my Great Grandpa's who were vetrans
Lawrence Brown, US Army WWII
Thomas Nelson, US Army WWII
Boyd "Whitey" Palmer, US Navy WWII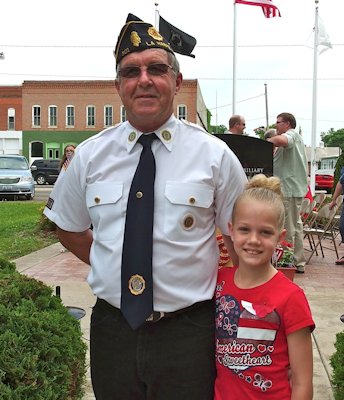 Laney Brown with her "Papa" La Harpe Mayor Kenny Brown, read her composed salute to "Veterans" Monday.
---