The Hancock-Henderson Quill, Inc.
---
Art Kane Retires As Bank President
by Dessa Rodeffer, Quill Publisher-Owner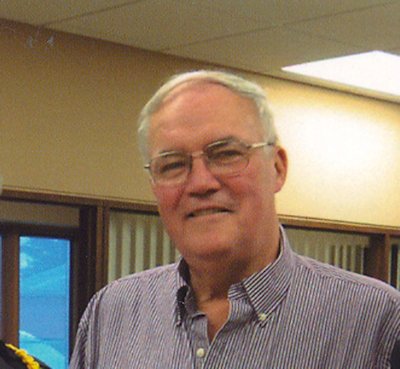 Art Kane, President of the Raritan State Bank has retired after 45 years of service at this locally owned community bank.
The bank he served is historic surviving the depression years and many bank closings due to its strong customer loyalty.
Of course, Art's 45 years at Raritan State Bank came after those uncertain years of the thirties. It began after he had given three years of service to his country. He had graduated from Media Weaver High School and went into the service, following his two older brothers, Dan and John.
In 1967, Art came home after his three years of service in the U.S. Army during the Viet Nam era.
After a visit to the Veterans Hospital, Art began working as a teller in June of 1968 at the bank.
Waldo Erickson was President and had met with Art and asked him to start the first of June after Eldon Duncan Cashier of the Bank had talked with Art about coming to work at the bank.
He was officially put in charge of helping people when they came in as a teller, but was given the weekly job of winding the grandfather clock that still hangs on the bank wall. The big beautiful pre-civil war clock, as the story goes, was purchased in an auction after the bank closings of the depression, by Waldo Erickson after it had been in two previous banks.
Art last wound the clock December 31st, on his last official day at the bank.
Art continues to serve as a director on the Raritan State Bank two more years, "God willing".
------------------
Raritan State Bank was founded in 1920 during the good days of what was called the "roaring twenties" but between WWI and WWII, the depression hit under President Herbert Hoover and the recovery started gradually under President Franklin D. Roosevelt.
"The bank holiday" as it was called required all banks in the U.S. to close until they could prove that they were financially sound to reopen.
Waldo Erickson made a trip to Chicago to talk to officials to see what needed to be done in order to reopen the bank. A meeting was called of the bank investors and told of the situation and almost all agreed to the terms. Raritan State Bank was closed a little over 30 some days to gather their proof and was then approved and reopened.
On June 16, 1933, President Franklin Roosevelt signed the Banking Act of 1933, a part of which established the FDIC.
The Federal Deposit Insurance Corporation (FDIC) is an independent agency created by the U.S. Congress to maintain stability and public confidence in banking.
In 1933 is when many banks closed down completely.
The closing caused a lot of hardship with people losing money they had in the banks, however in Raritan all depositors eventually received all their money with interest back.
They had to agree not to withdraw all of their funds the day that the bank reopened and they were rewarded with a small payment of interest on their funds. The bank officials persuaded their customers to do this in order to save their community bank.
(-1920-70 history book of the Raritan State Bank for more information).
Art Kane Retires
Art enjoyed a very nice retirement dinner at Hotel Nauvoo in early November with employees of Abingdon Banking Center and Bushnell Banking Center with close to 60 employees, spouses and Art's siblings and their spouses. Stories were shared of throughout his banking career.
Saturday, December 21st, the bank held a Open House Retirement Reception for Art at the bank where they offered cake and punch to a nice crowd during a cold, snowy weekend prior to Christmas.
Art Kane, Raritan State Bank trustee, retired as its President at the end of 2013 after an employment of 45 years. His last official duties ended March 8, 2014 as he made presentations at the Annual Meeting for last year's 2013 business.
He is known most for his community involvement and his friendly helpfulness in all his dealings at the bank.
Art lives on the farm he grew up on between Media and Raritan that his grandparents had purchased in 1928.
He was born in Monmouth Hospital, but raised by his farm parents, John William Kane and Catherine Rosemary (Larkin) Kane, both deceased.
Siblings are John B. (Nancy) Kane; Dan (Carol) Kane of Smithshire; Bob (Shirley) Kane of Biggsville; and Frank (Deanne) Kane of Roseville. A special sister, Rose Marie, went to heaven when she was 21 years old.
Grandparents are Frank and Julia Reedy Kane of Media and Edward and Agnes St. Ledger Larkin of Roseville.
Art is a graduate of Barry Grade School, Media-Wever High School in 1963 and then attended Burlington Iowa Business College.
While in school he was active in FFA, 4-H, and the school year book.
He served two years in the U.S. Army stationed in Texas and North Carolina.
He is a member of several organizations which include being a Henderson County Library trustee, Henderson County Historical Society board member, Henderson County American Legion treasurer, Raritan Opera House and the Monmouth Knights of Columbus.
He formerly was on the Relay for Life Committee, Media 4-H leader, helped with the Media-Raritan Bicentennial Celebration, St. Pat's and the Opera House celebrations.
He's a member of St. Patrick's Church in Raritan, a former trustee and now on the stewardship committee.
Art's hobbies include photography, genealogy, travel, and local and Civil War history.
---