The Hancock-Henderson Quill, Inc.
---
"We need to take appointments more seriously," states Henderson County Board Chairman Lafary
By Sally Day, The Quill
Oquawka- Tuesday, when the Henderson County Board reached number nine on the March 11, agenda, Board Chair Marty Lafary asked if anyone on the board knew David Gerst, who had been suggested for appointment to the Henderson County Board of Health.
None of the board members responded. Chairman Lafary continued, "I would like to know more about him."
He stated that Gerst may be perfect for the job, but he and the board should meet him and learn more about him before making such a serious decision. "There has been a large turnover," said Chairman Lafary.
Lafary was referring to the number of people who had been discharged or resigned at the County's Board of Health.
Lafary noted that in his job he has fired one person in 30 years.
"The people of the county depend on us to put the right people in this position," mentioned Lafary.
He added that they need to give the same consideration to anyone seeking appointments for various boards in the county. He thanked Gerst and anyone who agrees to sit on these boards, adding that they are thankless positions.
Additionally, he said he didn't think you should be an employee and sit on the same board.
Diana Seitz, an employee of the Henderson County Health Department, stated that Gerst is not an employee of the Health Department.
Another Henderson County Health Department employee, Trisha Darrah mentioned that part of the reason for the high turnover at the Health Department is due to paying employees minimum wage.
She added that people cannot live on less than $9 an hour.
The appointment of Gerst was tabled until the April meeting.
In other business, the board:
asked employees from Henderson County Health Department why the WIC program had gone from Henderson County to Warren County. They were assured that there are two separate programs in each county. The board was told that some of the numbers in the Health Department's 2013 Report were unaudited. In a motion to accept the Health Department's 2013 Annual Report, a roll call vote was as follows: Gail Russell, yes; Mark Lumbeck, yes; Albert Renken, yes; David Hinshaw, yes; Tex Stewart, yes; Terry Myers, no; Curt Eisenmayer, yes; Bob Peterson, absent and Stan Torrance, absent.
discussed the Jail Meals with board members and The Hub Restaurant owner Sue Bigger. The Biggers have the restaurant for sale, due to Sue's health. She mentioned that she will continue with the meals until the end of November, when her contract comes to its conclusion. Board member Mark Lumbeck noted that Sue has done a good job with the meals.
passed a resolution to participate in the Federal Surplus Property Program.
passed a Zoning Resolution.
approved minutes of the February 2014 meeting.
approved claims paid in February 2014.
heard roll call vote as follows: Chairman Marty Lafary, present; Gail Russell, present; Mark Lumbeck, present; Albert Renken, present; David Hinshaw, present; Tex Stewart, present; Terry Myers, present; Curt Eisenmayer, present; Bob Peterson, present; Jim Alexander, absent; and Stan Torrance, absent.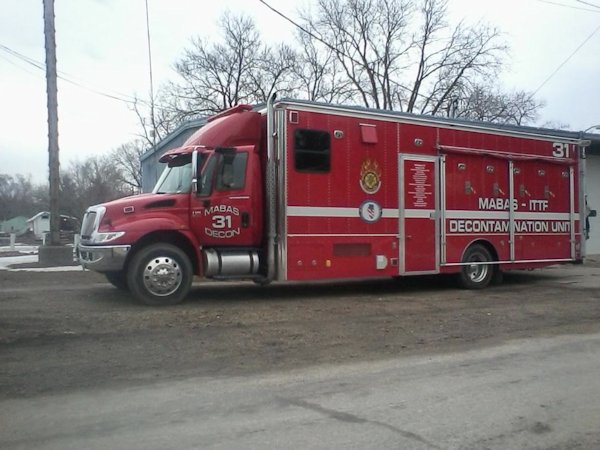 Securities, is available to those without water to take a shower in Oquawka. It is located at the Oquawka Fire Department. -Photo by Sally Day for the Quill
---