The Hancock-Henderson Quill, Inc.
---
Your Neighbor And Candidate Marshall Schrader
Meet your neighbor and candidate Marshall K. Schrader who lives in Warren County, between Monmouth and Roseville. Marshall is running for State Representative of Illinois 94th District, which includes Warren, Henderson, Hancock, and Adams counties.
Marshall was born in the fall of 1967. His folks moved to Abingdon from Galesburg before he started school, so he spent all of his school years in Abingdon.
He graduated from Abingdon High school in 1985 and he was involved in most of the activities that were available to him there, from music, to athletics and to community involvement.
After graduation, Marshall spent his first two years of his college career at Baylor University in Waco Texas.
His most memorable moment spent there was participating in spring football at BU as a walk on.
After that, Marshall transferred back to Western Illinois University and graduated with a degree in secondary education, with an emphasis on biological sciences.
During his high school years, Marshall met his wife Julie. Julie and Marshall began dating at the end of their senior year, even though Marshall had made a vow not to date anyone from his hometown. They were married on January 7th, 1989. They celebrated 25 years, this year.
After WIU, Marshall worked full time in his father's business from 1990 to 1999 and went back to Carl Sandberg College.
When he had done all he could locally, the young family moved to Carbondale in order for Marshall to complete his civil engineering degree at Southern Illinois University. They went to Carbondale with 2 kids and left with 3.
Marshall says his most memorable moments at Carbondale were having no extra money at all, spending excessive amounts of time studying and in class, and really being nurtured by the church family that they found while they were there.
In 1999, his family moved to Gainesville, Georgia where Marshall was the assistant city engineer. He came to the Galesburg Sanitary District from Georgia.
Marshall has been employed as the Director of Engineering and Maintenance for the Galesburg Sanitary District for almost 14 years. What this means is that he is responsible for the crew and equipment that operates and maintains all of the 160 miles of sanitary sewer in Galesburg, as well as everything that goes along with it (about 3500 sanitary sewer manholes, 21 pumping stations, 31 combined sewer overflow manholes and over 50 miles of storm sewer and appurtenances.
Marshall says that running for office while holding a full-time job has been a challenge, but well worth it. The Illinois Legislature is supposed to be a part-time job and think the campaigns; salaries and the benefits of the office have become so bloated that the people we elect lose touch with everyday working people. Marshall hopes to change that and intends to keep his job. He plans to go to Springfield, and try to make a positive difference for a short period of time (8 years or less) and then come back and finish his career at the Galesburg Sanitary District.
Marshall is the son of Ken and Mariana Schrader of Little Swan Lake in a home that they build almost 15 years ago. Ken still works full time, he owns his own engineering and land surveying consulting firm in Galesburg and has been in the office there since 1960. Mariana still goes non-stop. Marshall says their schedule would wear anyone out half their age.
Both of Marshall's parents grew up on Hancock County. They have been an amazing resource during his campaign, hitting the phones, the streets and the pancake. Ken grew up in Hamilton and Marshall grew up believing that quite possibly Fountain Green was the Capital of the World, since his mother had told them that quite often.
Julie stayed at home with the children throughout their entire lifetimes. Julie also graduated from WIU with a degree in education, but taught only one year full time. She did substitute teach quite often allowing her to work but still be there when her children needed her. She is also a very successful Stampin' Up demonstrator. When their youngest child graduated high school and left for college, Julie decided that it was finally her time. She will soon finish with coursework becoming a licensed professional counselor, certified for both private and school counseling. This has required tremendous sacrifice because the school she attends is 3.5 hours away and classes are only held on campus.
Marshall and Julie have 3 children. The oldest Preston is 24, and was married this past summer. He will finish graduate school in May at the University of Illinois, studying crop science. He recently accepted a position managing an agriculture research facility near Seymour and is also developing a farm pest management application for smart phones. His wife Rachel teaches 5th grade in Paxton, Illinois and they are the proud parents of Ekko, an adorable German shepherd puppy.
Daughter Kathryn, or Katy, 21 is a senior at Olivet Nazarene University in Kankakee, majoring in English with and interest in traveling and writing, perhaps journalism. Youngest son Christian, 20 is a sophomore and is also studying at ONU. He is a finance and economics major; he is as yet undecided as to which direction he will go. He likes the idea of helping people manage their money to get the best bang for their investment buck.
Until they left home, Marshall and Julie s world revolved around the activities that their children were involved in and they attempted to do everything as a family.
Marshall's favorite activity is spending time with his family. They built half their home together (and bought the other half). They garden and can extensively together. They hunt, fish and shoot together.
We love to be outdoors together whether it is walking, hiking, boating swimming, playing catch or basketball.We are die hard game players (and competitive too) and love to play just about anything.
Marshall says he believes greatest achievements are the ones that outlast you. So he is most proud of his marriage, which is the foundation for the lives of his family and will impact them long after he is gone.
He is extremely proud of his children, who are all well on their way to becoming responsible, productive members of society and who will give of themselves to help others.
Marshall also believes that he is pretty sure he as affected people positively as he has encountered them along the path of his life.
When asked about favorite vacation memories, Marshall says the family has had great time together over the years, but two of the most memorable were a Hawaiian cruise with the kids and Marshall's folks and a family trip to the Grand Canyon.
While they laugh about it now, a misunderstanding on the cruise let to all three of the children getting uncomfortably sunburned and having to 'ride out' the rest of the trip covered in lotion to try to ease the pain.
The 12 mile hike down and back up to the south rim of the Grand Canyon in the scorching heat is a trip they will never forget.
Marshall has resigned from all board leadership that he was previously involved in, due to the time constraints of campaigning and holding down a full time job.
He was a little league coach and board member, junior high basketball coach, Kiwanis Club member and board officer, Credit Union board member, school board member, Land Surveyor State Association member and officer, and Sunday school teacher, church elder, church board member and chair.
Marshall said that although he is running for a political office, he has come to despise the word Politician.
He really believes that our current system, both nationally and especially Illinois, is broken and in severe need of a complete overhaul.
He does not believe it can be done unless people who are not currently part of the system get involved, and get to the hard work of trying to turn things around. He cares a lot about the way things are going and firmly believes that he has something to offer. Unfortunately, many people lose their way when they get elected to office and he has had many people tell him it is impossible not to do.
Marshall disagrees with this. I think that unless people with strong moral convictions get involved, nothing will change and that this is the only way things will ever get changed for the good.
Marshall also believes it is important for people to understand that his faith as a Christian man is central to whom he is as an individual and that it is the lens through which he views everything else.
It is central to his daily life, work, interactions with the people he comes in contact with, how he conducts business, and most definitely with his family.
Marshall believes that the scriptures give us clear direction for how we are to live in the world, and though he frequently fails to as well as he should or could, he strives for that ideal and know that the world would be much better place if we could all do just a little better.
Marshall says the best part of a political campaign is getting the opportunity to meet the great people of west-central Illinois.
There really are many fine people in our communities and I have been richly blessed to be welcomed into their lives as I have stepped into this challenge.
Schrader wants people to know how much he has appreciated their hospitality and if he has not had the opportunity to meet them yet, he hopes to soon.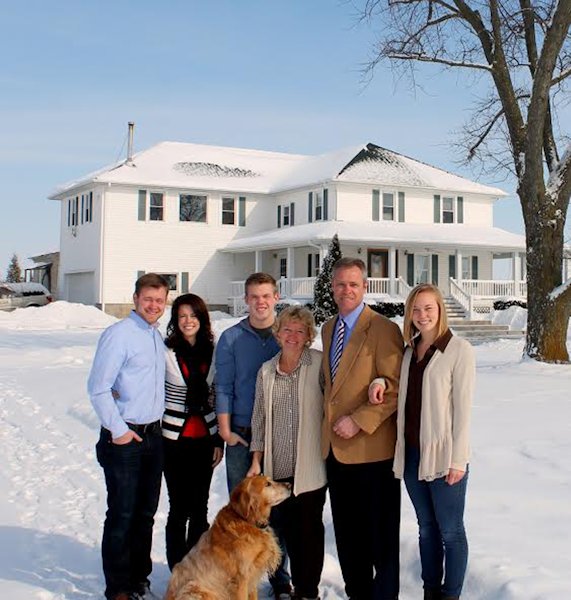 The Marshall Schrader family at their home in Warren County.
---