The Hancock-Henderson Quill, Inc.
---
Take "The Quill" Along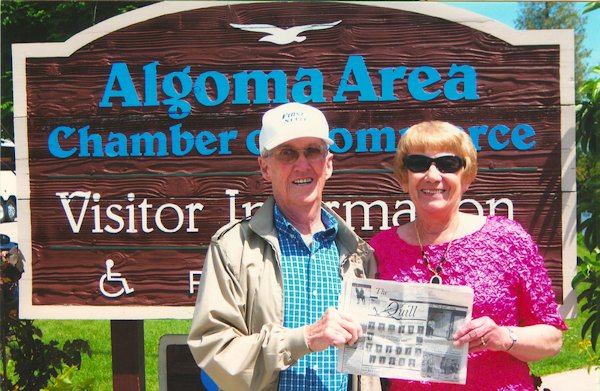 In June, Richard and Marcella Ketchum of La Harpe, took "The Quill" on a bus trip to Door County, Wisconsin. The weather was perfect, 60-70 every day. They ate at Maders German Restaurant in Milwaukee, WI on the first night out. Celebrities have been known to eat there because of their food. They traveled along Lake Michigan both ways.
"Going up it was very foggy and we could not even see the Lake, but coming back it was clear.
In Ellison Bay, WI we stayed at Rowley Bay Resort, which was on Lake Michigan."
While there they saw a "fish boil" outside and later the fish was served as part of their dinner buffet.
The Ketchems' went across on a Ferry to Washington Island. The day was spent touring the island as it was a tourist attraction and had only 300 permanent residents. The school was for grades 1-12.
"We had fabulous meals and came home a few pounds heavier."
When you go on a trip, take "The Quill" along and have your picture taken with it and then send it to us. Let's see where all "The Quill" can travel.
---