The Hancock-Henderson Quill, Inc.
---
Meet Your Neighbor
By Dessa Rodeffer, The Quill Publisher/Owner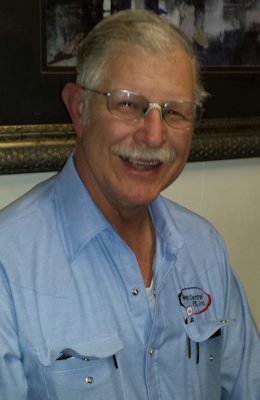 Meet your neighbor Wendell L. Oliver of Stronghurst, born in the Burlington Iowa Hospital in 1954 and currently living in Stronghurst.
His parents are Lloyd and Jeanne (Lant) Oliver. Lloyd was a grain and livestock farmer who grew up in Northeast Missouri. His mother was a 4-H leader, homemaker and also helped on the farm. She cared for the chickens and Wendell recalls in the 60's when eggs went to 9¢ a dozen and his dad said, "One more litter of pigs would be more cost effective." They did away with selling eggs to Guy Carmean of Stronghurst, who had bought his mom's eggs and distributed them.
His maternal grandparents, Frank and Martha Lant, were from the Stronghurst area.
Wendell changed schools as part of the consolidation at the beginning of his Senior year and was part of the first graduating class of the newly formed Southern High School, which consisted of Media-Wever-Stronghurst High School, that next Spring in 1972.
At Media, he played trombone under Marv Kuipers in high school band, was active in FFA and Ag classes with Larry Geckler and Wendell ran track, and managed the football team under coach Dick Mings of Roseville. Mings had been an M.P. during World War II and was from the "old school" Wendell explained.
He sported a flat top and what Wendell remembers most about him: "He treated everyone with dignity, and that kind of stuck with me."
Wendell was also a student at Western Illinois University in Macomb, and studied agriculture and business.
He has been a member of the United Presbyterian Church in Stronghurst his entire life and recalls Dr. John Castle who was a strong leader in the church.
Oliver said, "His influence impacted my life."
Wendell has been a member of the Masons for several years and earlier was a member of the Stronghurst Jaycees.
He also enjoys cooking.
Wendell married the former Linda Hawk in December 1972 (the couple have been separated now for 15 years) and they had three sons together: Rick (Edie) Oliver; Doug (Amy) Oliver all of Mediapolis, Iowa; and Dan Oliver of Morning Sun, Iowa.
Rich is employed at the Wal-Mart Distribution Center in the warehouse specializing in filling Internet orders and his wife Edie is a medical billing clerk. He and his wife have a blended family of 4 children, Harrison, Sienna, Matt and Lilli Oliver.
His son Doug is also a Wal-Mart Distribution employee in Mt. Pleasant, Iowa working in the warehouse for a number of years and Amy is an LPN at a nursing home. They have 2 children, Alaina Jeanne and Braeden.
Son Dan is engaged to Larissa Howes and lives in Morning Sun, Iowa. Dan is a welder for the Hawk-Eye group in Mediapolis and Larissa is a therapist in Trinity Hospital. They have a two year old daughter, Abigail Oliver.
Wendell farmed with his dad after graduation and then married in December 1972. He continued farming on his own, planting his last crop in the early 90's.
While still farming he had worked as a parts man at Neff Implement in Stronghurst and at Carl Motors in Carthage.
In 1991 he started working for Stock Land F.S. and has continued there through its mergers to Riverland FS and now West Central FS, this being his 23rd year.
Now, Wendell is the Rozetta plant manager where he enjoys working with farmers in the area.
He enjoys family get-togethers at special holidays, eating good food and playing with the grandkids.
Last year he took his three oldest grandchildren, Matt, Alaina and Braeden to the Quad Cities to enjoy Bald Eagle Days.
"Family and agriculture are at the top of my list of what is best in Henderson County," Wendell says. "In the last 20 years I have met a lot of people and have enjoyed many associations that I wouldn't have had if it weren't for my career in agriculture.
"My son Doug said to me, "You can't go anywhere where there is not someone you don't know.'"
Wendell really has and does enjoy the business of farming, more so than a vacation away from the area.
Whether helping with farm supply, sales and service, scouting fields, working with fertilizer and weed control-agronomy, at Rozetta FS as plant manager, I enjoy all the connections and friendships.
He said, "I could go to the city-like Chicago-and adapt, but it's just not home."
"Agriculture and farming have changed in my lifetime. It's a more dynamic industry than anyone outside of farming realizes."
Watching the changes in farming and being able to help farmers with all of that, is an interesting challenge for Wendell.
"I have a real connection with people in the rural areas that I enjoy."
---