The Hancock-Henderson Quill, Inc.
---
Meet Your Neighbor
by Christy Kienast, The Quill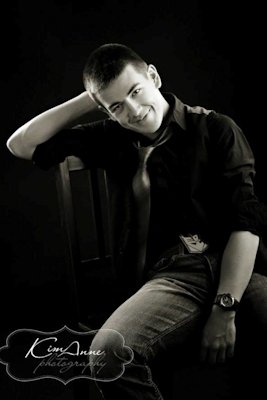 Meet your neighbor and Illini West Senior Wyatt Fecht of Carthage.
Wyatt is the son of Bob and Shellee Fecht of Carthage. Bob is a farmer and works for Western Illinois University and Shellee is a DCFS Supervisor.
Wyatt has one older sister, LeAnn.
He is the grandson of Bill and Wilma Fecht of Carthage and Chuck and Karen Smith of Alton.
He is involved in several clubs including Boy Scouts of America, Order of the Arrow, 4-H, the Illini West Robotics Team, and Tsalagiyi Nvdagi (Cherokee tribe/council).
Wyatt considers his two greatest accomplishments to be earning his Eagle Scout in 2012 and being elected a Section Chief for Boy Scouting's National Honor Society, the Order of the Arrow.
For his Eagle Scout project, Wyatt GPS mapped 700 veterans' graves in the 3 Carthage cemeteries and compiled a book with all of the information from each veteran's gravestone.
As a Section Chief, Wyatt is one of the top 56 elected Scouts in the entire United States, in charge of an area spanning 87 counties in 4 states, with over 9,300 people under his representation and charge.
During his time with Scouts, Wyatt has traveled all over the country from the New Mexico Mountains to the Florida Keys.
His favorite trip was this past summer when he spent two weeks in the Minnesota Boundary Waters. He canoed out in the wilderness without any electronics and barely anything more than the clothes on his back and the food for himself and the 7 other members of his crew. One night, after paddling their canoes for 22 hours straight, they saw the Northern Lights dance across the 4 a.m. moonlit sky.
Wyatt is an outdoors man. He enjoys climbing, rappelling, backpacking, canoeing, kayaking, and wilderness camping.
Other activities include: drawing and painting, reading (books and comics), playing video games, various styles of Native American dancing, and playing the Native American double drone flute.
Wyatt tries to live his life by his two favorite quotes: "If you're not having fun, you're not doing it right." and "When you work at the things you love, or for those you love, you turn work into play, and duty into privilege."
Wyatt will graduate from Illini West High School in May of 2014 and will be attending Washington University in St. Louis in the fall of 2014, majoring in chemistry and environmental sustainability.
---