The Hancock-Henderson Quill, Inc.
---
First State Bank Ag Strategies, Welcomes Uncle Bruster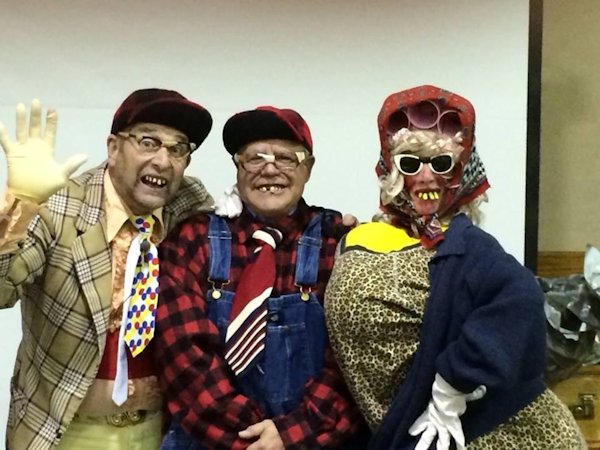 "Uncle Bruster" (Bruce Wehr from the Quad Cities) was the keynote speaker at First State Bank's 27th Annual Ag. Strategies dinner meeting held on Tuesday evening at the Carthage Baptist Church community room.
Uncle Bruster and his "wife" Bernice presented "Laughter is the Best Medicine" and had some fun at the expense of a few "lucky" attendees, including Ben Powell, pictured in the photo. No one knew Bernice was actually County Treasurer Kris Pilkington, until her true identity was unveiled at the end of the show. The crowd was totally amazed.
Uncle Bruster wound up his presentation on a more serious note by expounding on the virtues of volunteerism and how important it was to serve and give back to the community. He urged the group to get involved and follow the example of the ultimate volunteer, Jesus Christ.
The evening started with a delicious meal catered by D & J Catering and was followed by a brief presentation by Andy Bastert, Western Illinois Regional President. He discussed the growing problem of identity theft and scams and presented some examples. He also reviewed farm income trends and projections for corn production, and wrapped up by discussing the importance of working capital as a farm operation's buffer for leaner times that may be on the horizon.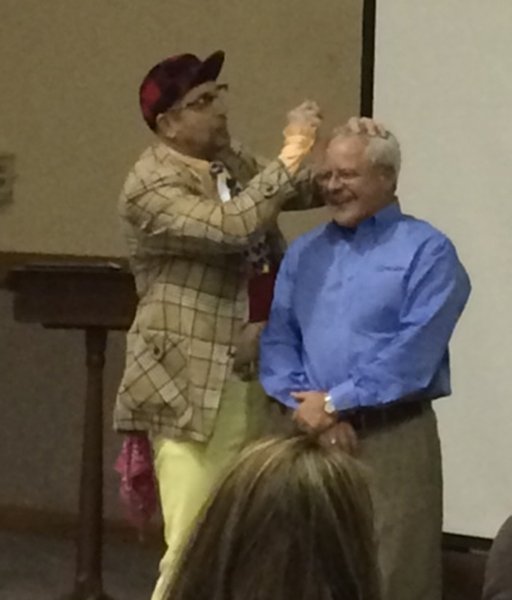 First State's Ben Powell before transformation - at right.
---