The Hancock-Henderson Quill, Inc.
---
Senior Night At West Central
The West Central Heat girls basketball team was the winner of their Senior Night game vs. West Prairie.
Savannah Pulse was high scorer with 15. Also in double figures Cierra Pulse with 13, Maddy Brent and Joni Lafary with 10 each.
High scorer for West Prairie was Kelsey Bartell with 22.
West Central
Cierra Pulse 4-3-6-7-13, Savannah Pulse 6-6-3-6-15, Catie Steck 4-0-0-0-4, Maddy Brent 10-0-0-0-10, Joni Lafary 8-0-2-7-10, Maddy Cooper 2-0-0-0-2
West Prairie
Hanna Runner 2-0-5-6-7, Jennifer Schwerer 0-6-1-2-7, Kelsey Bartell 14-0-8-16-22, Shoemaker 2-0-1-2-3
West Central stats
5 17 16 16 54
West Prairie stats
8 10 6 15 39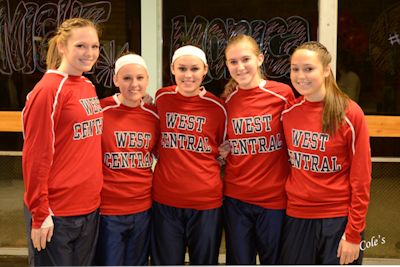 Seniors Catie Steck, Monica Brooks, Savanna Pulse, Catlyn Nichols and Cierra Pulse
---