The Hancock-Henderson Quill, Inc.
---
Take "The Quill" Along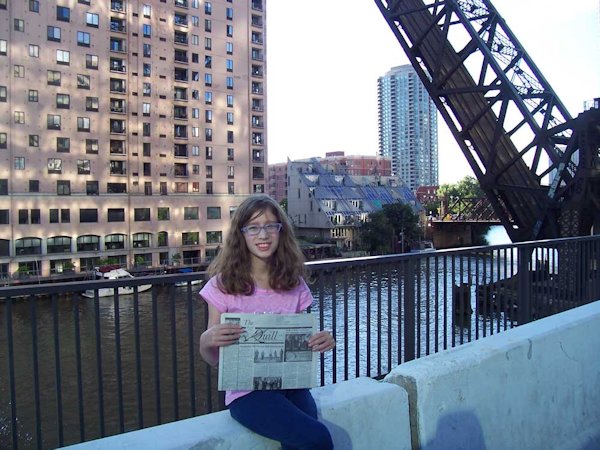 Hope Rathjen of La Harpe, took "The Quill" along as she traveled by train to Chicago on July 16 with her father, enjoying three days in the windy city. She went to the Shed Aquarium where she touched a sting ray. She toured the Museum of Science and Industry where she viewed an IMAX movie about the research that had been done on the tagging and migration of butterflies in the 1930's. She rode the trolley through downtown Chicago where a guide told the history of the city. She rode a water taxi, and visited Navy Pier where she viewed the city and Lake Michigan from the huge Ferris wheel. While she was impressed by many aspects of the city, she was grateful to return home for a quiet weekend in La Harpe. Hope will be starting fifth grade this year and is the daughter of Dan Rathjen and Angela Yelm. When you go on a trip, take "The Quill" along and have your picture taken with it and then send it to us. Let's see where all "The Quill" can travel.
---