The Hancock-Henderson Quill, Inc.
---
16th Annual: "Rumble on Route 9" Brings Relics To La Harpe Classic Car Show Reunion
On a sunny Saturday, morning, August 2nd, the city of La Harpe hosted their 16th Annual La Harpe Classic Car Show Reunion.
It was a beautiful day for the show, with just under 300 cars rolling into the show. With 46 different classes open to all makes of automobiles, pickups, and motorcycles, it was a great show.
La Harpe native, Robert Burgess of Abingdon won Best of Class in the motorcycle class, with his 2002 Harley Davidson Road King.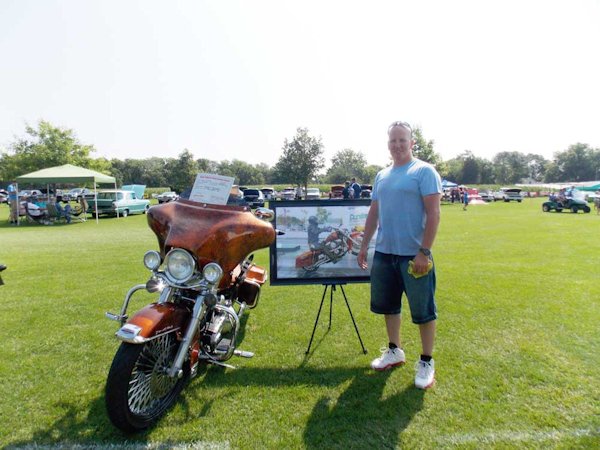 Robert has had the bike for 3 years and it was all stock when he got it.
The bike has gone from an 88 inch Harley Davidson twin cam motor to a 95 inch.
He has installed new camshafts, cylinder heads, pistons, ignition, carburetor, exhaust and countless other things.
It has a custom paint job, Robert's first. The bike also has a full fairing with a 7 inch touch screen dvd, gps, mp3, cd player and kicker 6x9 speakers. Road Kings do not come with fairings.
The bike has been to the Sturgis, South Dakota motorcycle rally twice and it most recently was out in Wyoming earlier this summer.
Robert says he bought the bike to spend more time with his dad, Samuel, who passed away earlier this year from cancer. His father taught him how to paint so he could do his own custom job.
Robert had brought his father's motorcycle at the show as well.
Once again all proceeds were given to the Great River Honor Flight.
Vets for Vettes gave half there proceeds to the honor flight as well .
---