The Hancock-Henderson Quill, Inc.
---
WC 9th Annual FFA Banquet
Sydney Bigger, daughter of Barry and Jody Bigger, rural Media said that ever since she was little she wanted to be in FFA. "When the high school FFA members would come down to the elementary in their blue jackets...they looked pretty cool. Then, when my brother Ethan joined FFA my 7th grade year, I saw all the doors open for him. There were all these opportunities he could get involved in. He could do crop judging and livestock judging, public speaking, have a record book and all these opportunities were out there.
"So, my Freshman year I joined FFA and participated in as many events as possible. I was 6th in crop judging, a state finalist in public speaking and joined the livestock judging team. It doesn't sound like a lot my Freshman year, but I used it as my foundation and since then I only improved. FFA has taught me to set goals and that I can achieve anything that I strive for. In fact, my record book won state. It doesn't happen very often so I'm pretty excited.
"Reaching goals takes a lot of hard work and FFA has really improved my work ethics." Sydney challenged all in the room to set a goal, or something you want to improve. "Work hard to achieve it, and by next year at this time, you will have."
Mason Fullerton son of Denny and Amy Fullerton of Oquawka expressed his "extreme passion for agriculture and expecially for livestock" and talked of the opportunties and FFA. He gave a huge thanks to FFA Advisor Mr. Gittings, and to his family members.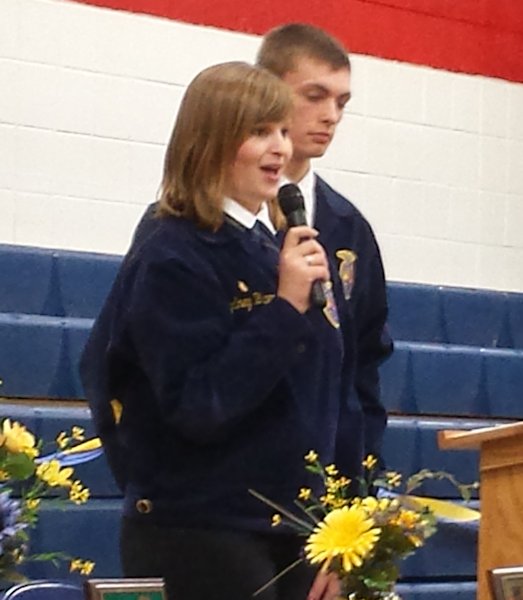 Retiring FFA Chapter President Sydney Bigger West Central Senior, gives her farewell address at the FFA Awards Banquet & Labor Auction as Vice President Mason Fullerton looks on.
---