The Hancock-Henderson Quill, Inc.
---
Take "The Quill" Along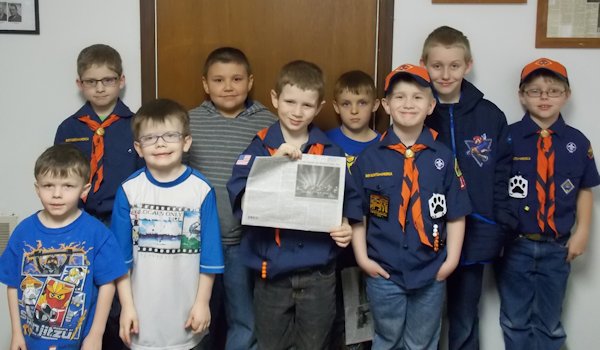 On Tuesday, April 8th the Tiger Scouts of La Harpe visited the La Harpe Quill office and took "The Quill" along. The Tiger Scouts do 5 family requirements, 5 den activities, and 5 "Go See Its" to earn their Tiger badge, and the tour of the Quill office was their field trip to a newspaper office.
From left back is: Peyton Bundy, John Ravenscraft, Logan Brown, Matthew Bundy, and Kaden Little. From front left: Harley Brown, Ashton Brown, Bryce Kelley, and Tallen Ford.
When you go on a trip, take "The Quill" along and have your picture taken with it and then send it to us. Let's see where all "The Quill" can travel.
---