The Hancock-Henderson Quill, Inc.
---
Man Receives Lifesaving Award
On April 01, 2014, members of the Illinois State Police District 14 Command Staff and the Henderson County Sheriff's Department joined with family members at the David Avery residence in Smithshire, to proudly present Mr. David E. Avery with a Lifesaving Award.
On July 21, 2013, Mr. Avery and his wife were involved in a head on collision with another vehicle in rural Henderson County.
Due to the collision both vehicles caught on fire. Mr. Avery and his wife were able to get out of their vehicle.
Mr. Avery observed the other driver, Claude Martin, was still inside his vehicle and he was not able to get out.
Mr. Avery approached the burning vehicles and pulled Mr. Martin out and away from the fire.
The Lifesaving Award reads, "with disregard for his own personal safety, David Avery approached a burning vehicle that had just been involved in a traffic crash.
David Avery pulled the vehicle's driver, Claude Martin, away from the vehicle to a safe location. His selfless action that day undoubtedly saved Mr. Martin's life.
The Illinois State Police applauds his heroism and appreciates his willingness to become involved even at great risk to himself."
David Avery's actions during this event bring both a great degree of honor and respect for himself, his family and his community.
Incidents like these are a reminder that everyone plays a part in traffic safety.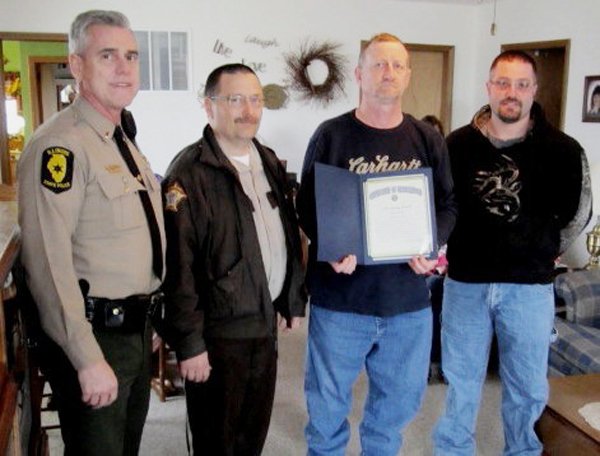 From left is IL State Police District 14 Operations Officer Lt. Dan Adams; Henderson County Sheriff Steven P. Haynes; award recepient Mr. David Avery; and Henderson County Deputy Matt Link
---