The Hancock-Henderson Quill, Inc.
---
La Harpe Youth Advances To Elks Hoop Shoot National Finals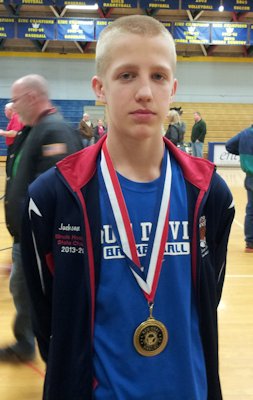 Jackson Porter has qualified for the National Elks Hoop Shoot competition which will be held this weekend in Springfield, Mass.
Jackson recently competed and won his age division at the North Central Regional 3 Hoop Shoot in Iowa City, which brought in competitors from a 4 state region to include Iowa, Illinois, Minnesota, and Wisconsin, Jackson took home the championship award for his age division, as well as a trophy and certificate for best shooter of the competition. He made all 25 of 25 free throws.
Not only did Jackson make all 25 free throws in this competition, he got the best shooter award at the preceding state competition in Decatur for making 25/25 free throws.
Jackson is the son of Molly Porter, and brother of Peyton Porter, who had his share of Hoop Shoot successes throughout his elementary and Jr. High days.
He is the grandson of Charles and Claudia Apt. Jackson and some of his family will travel this week to Springfield, Massachusetts where he will face off with the best free throw shooters in the nation.
While in Springfield, they will visit the National Basketball Hall Fame and hopefully will leave with Jackson's name on a plaque designated for National Champions.
Good luck to Jackson this weekend, and congratulations for his successes so far in the Hoop Shoot competition. He has represented his school, as well as Illinois proudly!
The Elks Hoop Shoot is a national free throw contest that provides youth ages 8 to 13 an opportunity to compete, connect and succeed through hard work and healthy competition.
Six winners from each of the 12 Regions will compete at the Hoop Shoot National Finals held on April 12, 2014, in Springfield, Mass., the birthplace of basketball.
The Hoop Shoot National Finals begin at 9:45 a.m. Eastern Time on April 12. If you can't get to the gym on Saturday, you can follow the action from home.
Get live updates from the foul line by using the Elks' online shot tracker and following on Twitter using #Hoop Shoot.
The Elks Hoop Shoot is fully-funded by the Elks National Foundation, the charitable arm of the Benevolent and Protective Order of Elks of the USA.
---