The Hancock-Henderson Quill, Inc.
---
Singing The Blues Makes It Better
by Dessa Rodeffer -Publisher/Owner
September 25, 2013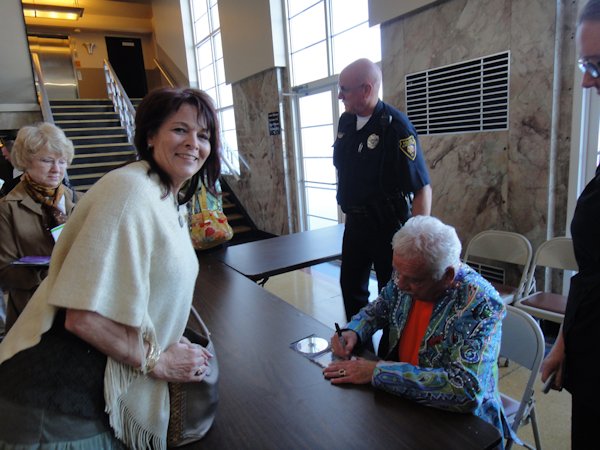 They left EVERYTHING on the performance stage when they left - there was nothing more to give us, not even an encore. Doc Severinsen and his "BIG" band were fabulous.
One of the best choices I've made this year was to cross the mighty Mississippi and attend a once in a lifetime performance.
Doc is 86 but make no mistake, he can out do any youngster and has been doing so since he was 7.
The parking lot was completely full and I was forced to drive into the back and I found a spot in between two dumpsters. The good news is I was close to the stage, next to Doc's bus. After they heated up the stage and Vanessa Thomas pulled us in with her amazing voice and range singing Indigo blues, I felt wonderful.... I'm not sure how it works - singing the blues - but I thought it might make me cry, but instead I was revived from any notion of it. I waited in line for a signed CD by Doc and went to my car only to find it surrounded by the band enjoying the view of the Mississippi.
We had a good visit and I had my photo taken with Doc's right-hand saxophone player for 20 years from California. He said Doc hand picks the players from hear say which means no audition. Some are from Minnesota where they were headed, some from Texas, and Vanessa was from Kansas - an opera singer as well as blues.
Doc will head back to his home in Mexico when finished, but they all left us with more hope for the future and no sign of the blues.
---