The Hancock-Henderson Quill, Inc.
---
Meet Your Neighbor
by: Dessa Rodeffer, Quill Owner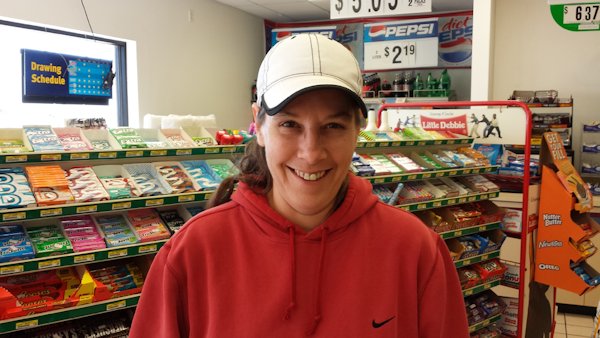 Meet Your Neighbor Bonnie Gaddis of Oquawka, who works at Ayerco-Carman.
Bonnie was born in Greenville, Michigan the daughter of Ron (deceased 2001) and Lois Wagy of Oquawka.
She grew up in Greenbush and Oquawka, and attended Avon Middle and Elementary Schools, and then came to Union High School at rural Biggsville.
She married Richard Gaddis in 1985. He is retired from Burlington Northern Santa Fe Railroad.
Bonnie and Richard have two daughters and one son:
Nicole (Tyrone) Pearson have Shaunice;
daughter Brandi (Zach) Anderson have three children, Addison, Parker and Avery, all live in Burlington,
and their youngest is a son Andrew (24) who is young, handsome and available!
Andrew worked at Gale Products in Galesburg and then started a trash business in Oquawka with Chuck Barry.
Bonnie's Mom Lois Wagy is retired after 30 years at Admiral and Maytag in Galesburg.
She has four sisters and a brother.
Mary Baldridge of Kirkwood who has two girls,
Doug (Leigh Ann) Wagy of Atlanta, Georgia with three children.
Dawn Kelly of Cedar Rapids, Iowa and
Bonnie's identical twin sister Connie (Gary) Russell of Burlington, Iowa;
and Wendy (Dave) McCleary of Oquawka.
Bonnie enjoys working at Ayerco in Carman 5 days a week where she says the station will be offering gasoline again when the new tanks are completed this week.
When the children were small they vacationed at Wisconsin Dells, and all the Great Lakes. When Bonnie was a child her family vacationed in Wyoming.
Her hobbies are fishing, cooking, playing Bingo, attending events of her grandchildren in-music and sports, and loves the family gatherings at mom's, in Oquawka, who is a great cook!
Her future plans are keeping on, keeping on, and her hopes are that the Mississippi River doesn't flood again!!
---