The Hancock-Henderson Quill, Inc.
---
Doc Severinsen Kicks Off Burlington Civic Music's Season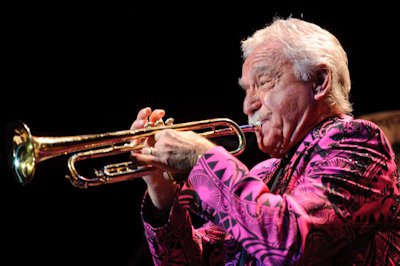 Doc Severinsen's Big Band will open the Burlington Civic Music Association's 84th season of artistry on the river.
The show is scheduled to begin at 3 p.m. Sunday, Sept. 22, at Burlington Memorial Auditorium, 200 Front St., Burlington, Iowa.
For 25 years, Doc Severinsen was perhaps the best-known trumpet player in America, appearing on television every weeknight as the leader of The Tonight Show Orchestra.
Known for his exceptionally loud wardrobe, Severinsen often bantered good-naturedly with host Johnny Carson, while supplying the show "Doc's incidental music. Despite the musical limitations of that format, musicians considered The Tonight Show Orchestra one of the better big-band jobs available.
While leading the orchestra, Severinsen also maintained a side recording career, toured with smaller groups, and played with jazz and pop orchestras.
When Carson retired in 1992, Severinsen toured with a select group of The Tonight Show Orchestra alumni and continued his national guest appearances.
Born Carl Severinsen July 7, 1927, in Arlington, Ore., he was nicknamed â"Doc" after his father, a dentist.
Starting music lessons at 7, Severinsen originally wanted to play the trombone, but the trumpet was the only brass instrument available in his small hometown. Severinsen got so good so quickly, he was performing with the high school band while still 7.
At 12, he won the Music Educators' National Contest, and he began playing with an orchestra while still in high school.
After finishing high school, he immediately joined a succession of touring big bands, including Benny Goodman's and Tommy Dorsey's, in which he was a featured soloist. In 1949, he settled in New York and began working for NBC as a staff musician. He moved to television in 1952 and appeared as an orchestra member on the original Steve Allen-hosted The Tonight Show.
When Carson took over the show in 1962, Severinsen was named assistant orchestra leader. Around the same time, he recorded the first of a series of albums. Severinsen was promoted to The Tonight Show Orchestra leader and musical director in 1967.
After recording credible forays into jazz-funk fusion in the early 1970s, Severinsen surprisingly landed some disco-flavored dance hits in the mid- to late â'70s.
In 1986, he brought The Tonight Show Orchestra into the studio for their long-awaited first recording sessions. The resulting album sold briskly and won a Grammy for Best Jazz Large Ensemble Recording. Between 1987 and 1992, Severinsen recorded three more successful albums with The Tonight Show Orchestra. He also released a Top 10 jazz album in 1988.
Since his stint on The Tonight Show, Severinsen has continued recording and touring. He also has been active serving as guest conductor for symphony orchestras, leading brass workshops and clinics, and designing and manufacturing trumpets.
Season ticket information is available at www.BurlCivicMusic.com, or call 319-752-0336, or email Sales.Support@BurlCivicMusic.com.
---