The Hancock-Henderson Quill, Inc.
---
Art At Its Best
By Virginia Ross
Henderson County is really proud of local artist, Kevin Booton son of the late Boyd and Darlene Booton!
Last Sunday at the Art Center on Jefferson Street, Burlington, Iowa, he displayed a number of works ranging from finite glimpses of actual Western Illinois scenes (Schroeder's Place) to abstracts bursting with color and his own style of landscapes.
Kevin grew up south of Biggsville, graduated from Union High School and the Columbus College of Art & Design, Columbus, Ohio, and is now a free lance graphic designer in Springfield, creating logos, brochures, catalogs and other advertising products. He is a member of the Transparent Watercolor Society of America.
In all 38 pieces were displayed showing a wide range of technique. Rock quarries fascinate him as he feels the utter stillness-a spiritual experience. He began doing these studies when invited by a Quad City Quarry owner to paint a piece for his office.
Building upon the study of one rock the piece is painted around it to come together portraying the atmosphere of a quiet presence.
In college he did oil and found it sticky and requiring a long period to dry. Oil can always be changed. In a watercolor class he found the technique that he would make his own. As Kevin said, "Once the color is down; its down." Therefore, the artist has one chance to make it right and he certainly has "made it right".
At first he did landscapes and "fat people and animals" (his own unique versions) and added abstracts (he is influenced by the works of Van Gogh) as well as refining landscapes. When asked what the future holds, he said he is considering a more realistic style-perhaps, portraits, landscapes or still life.
Questioned about the time it takes to finish a piece, he declared each is individual. For example, "Olena Symphony" requires two to three days. It was so named (to quote Kevin-"Sweeping symphonic approaches to the landscape punctuated by notes of color, juxtaposed with shapes of sky and land-all remind the viewer of the grace, excitement and beauty of the natural environs")-the high note use of color blending with softer pastels-like a symphony. The actual scene is a view looking down from Kemp Cemetery in Gladstone Township. "Schroeder's Place" demanded a week and one half's concentration.
Another piece entitled "Age of Grace" features the water lilies by Nauvoo swaying in the breeze. "The Dallas Quarry," "After Rain Slumber," "Biggsville Quarry Floor," " Illinois Frost Sonata," " Boyd: Memories of the Earth," "Down By The Lazy River," "Maelstrom I & II," a series beginning with "Florence Morning and including four others about the Florence Quarry," as well as seventeen abstract landscapes completed the showing.
Look at Kevin's website: www.kevinbooton.com to see his works.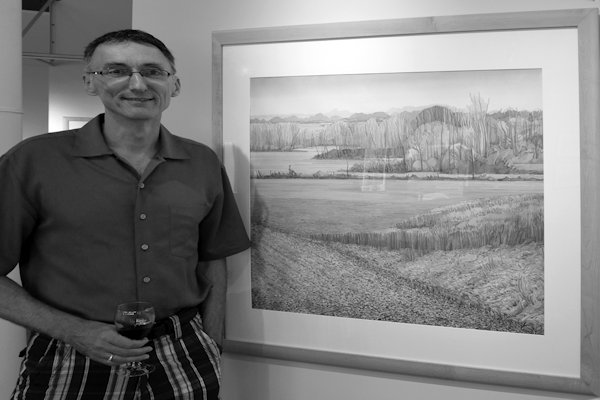 Photo caption: Kevin Booton stands besides "Schroeder's Field," a landscape. Photo by Margaret Boyce
---