The Hancock-Henderson Quill, Inc.
---
Take "The Quill" Along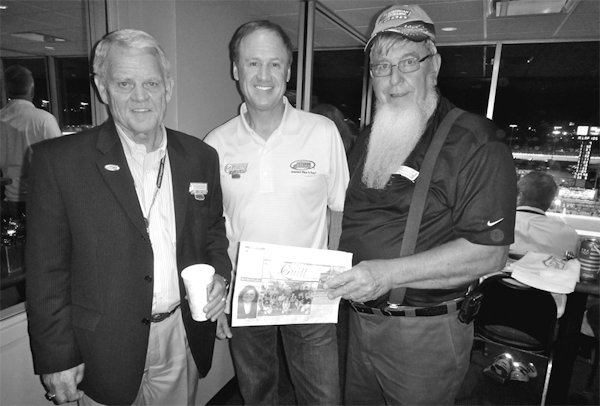 Ray Defenbaugh (right) of Biggsville and CEO of Big River Resources, took the Quill along to the NASCAR Pro races at Newton, IA August 2-3rd which was Sold Out. He visited with Iowa Speedway owners throughout the day Conrad Clement (not pictured), Stan Clement (left) and Rusty Wallace (center) owner, race driver and ESPN announcer and others including hall of famer Richard Childress who was watching his grandson and leader, Ty Dillon race. NASCAR is a big promoter of ethanol with the big support of the Clement family, Rusty Wallace, and the Iowa Speedway. The final races for the season are this weekend with the ARCA Racing Series on Saturday, and the NASCAR CAMPING WORLD TRUCK RACE on Sunday at 1:00 p.m.. Rusty, Stan, and Conrad hope Henderson County folk will come, visit their Iowa speedway and enjoy the races, and bring "The Quill". Newton is an easy drive west on Route 80 from Iowa City, IA , 35 miles east of Des Moines, Iowa.
Whenever you go on a trip, take "The Quill" along, have your picture taken with it, and then send it to us. Let's see where all "The Quill" can travel.
---