The Hancock-Henderson Quill, Inc.
---
Meet Your Neighbor
by CHRISTY KIENAST, The Quill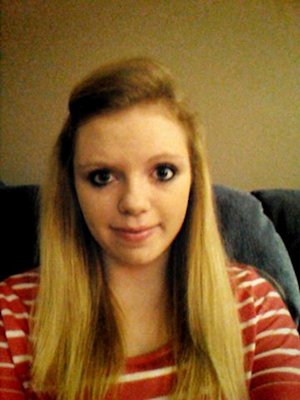 Meet your neighbor and Illini West Senior Abigail Streicher of La Harpe. Abbey is the daughter of Alan and Karyn Streicher.
Abbey was born on December 22. Abbey was raised in Annawan until 2007. Alan works at Case in Burlington, Iowa and Karyn works as an LPN at the Women and Family Medical Group in Carthage.
Abbey has two brothers, Kyle and Kaleb. Kyle, 21 attends Southeastern Community College and works for I Wireless. Kaleb, 15 is a freshman at Illini West.
Abbey is the granddaughter of Al and Laurie Streicher of Kewannee and Bob and Kathy Palmer from Moline.
Abbey currently works at Midwest Family Medical Care and before that she worked at Country Cafˇ. While in school Abbey has been a member of the Drama club, choir and cheerleading. In cheerleading, Abbey got an award called All American Cheerleader. Her best memory of high school so far was when she was in the high school musical Beauty and the Beast her sophomore year.
One of Abbeys favorite vacation memories is when her family used to go to Minnesota every year and spend time with a friend of her mom's from high school at a campground/cabin.
Abbey has been chosen as Junior Council Member for the La Harpe City Council and is part of LaHarpe Christian C.O.R.E 4:13 youth group.
As of now, Abbey is undecided where she wants to attend college after she graduates in the spring of 2014.
---